Some people say that policing is changing out of all recognition – but are they right? Sceptics argue that the job is basically the same as it's always been.
So what's the point of taking a leap of faith and studying for an extra qualification on top of all the pressures of work?
"
For officers who want to be prepared for what comes next, this is the time to be looking at returning to study, in a way that doesn't get in the way of doing your job
For a start, technology is changing almost too quickly to keep up. As well as the crimes enabled by technology – online fraud, stalking, CSE and terrorism – new tech also offers new ways to counter and investigate crime.
But some of these, like genetic databases, big data and artificial intelligence, come with their own set of operational and ethical issues. The next generation of police leaders need to be equipped for these.
Hard choices
Meanwhile the nature of demand and criminality is changing. Under serious pressure from budget cuts, forces need to make hard choices – sometimes between high-profile anti-social behaviour and low-profile crimes that cause much greater harm.
This new 'vulnerability' agenda brings its own complexities: what do officers know about vulnerable victims and their needs? What's best practice for multi-agency working? And how do we maintain public confidence when police work is behind closed doors?
At the same time, police forces themselves are having to cope with constant, unrelenting change.
This brings challenges for senior officers who need to manage organisational change, consider the welfare of their officers, all under pressure from multiple external demands.
Leaders need to understand how police cultures affect officers' behaviours and how they can lead and manage at a time of profound organisational change.
Complexity
The new Police Educational Qualifications Framework is aimed at reflecting the complexity of what officers do, and recognising their achievements.
It also means that all new entrants will be degree-educated for the first time, and applicants for senior posts may need to demonstrate Masters level education. 
For officers who want to be prepared for what comes next, this is the time to be looking at returning to study, in a way that doesn't get in the way of doing your job.
If you're looking for a competitive edge; if you're thinking about future promotion; or you just want to be the very best at what you do, higher education can get you there.
Achieving your goals
Anglia Ruskin offers you three ways of achieving your goals – all of which are part-time and distance learning, so you can study at your own pace.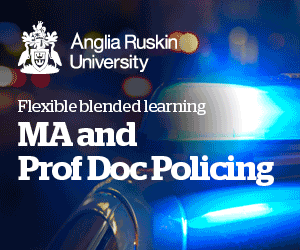 You can study for a Fellowship, where we'll support you to carry out a small-scale piece of research in your area of professional practice, with the option to top-up to a Masters later.
Or you can go directly to a Master's degree in Contemporary Policing. For both these routes you'll study modules including Researching Police and Policing, Policing in a Digital World, Policing and Public Protection, and Police Culture, Management and Change.
Or you can study for a Professional Doctorate in policing, and focus in depth on an area of your choice.
You'll be supported by academics from the Policing Institute for the Eastern Region, and join a community of in-service officers taking study further.
And you'll become part of a wider academic community with strong links to local constabularies like Essex and Cambridgeshire.
You might not need to have completed a first degree to study for a Masters with Anglia Ruskin – our postgraduate degrees are designed for serving officers and staff, and we recognise prior experience and learning. Come and have a chat to us, and together we'll work out what your best options are.
Policing is changing – are you ready to make a change as well?
Law, crime and social sciences at Anglia Ruskin University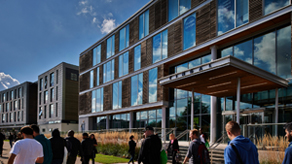 Our graduates help shape the landscape in the legal and criminal justice systems and far beyond. Join our inspiring academic community and start defining your own brighter future, too. Laying a firm foundation from the latest academic theory is just the start. On one of our law, crime and social sciences postgraduate courses, you'll be supported to apply your learning to live situations as you get to engage with qualified lawyers, research-active academics and other experts in their fields.
Policing Institute for the Eastern Region (PIER)
Advancing policing through partnership and innovation
PIER is committed to the delivery of innovative and high quality research, professional development and knowledge exchange for the improvement of policing practice in the Eastern region.

We are a multi-disciplinary research institute dedicated to advancing policing practice. Find out more about the work we lead at PIER in collaboration with police and other agencies across the region.