Police ICT: User Perspectives
A CoPaCC Survey of officer
experiences using police ICT
Don't miss this unique frontline view of force ICT investment, development, implementation and integration, useability, effectiveness, training and support.
Detailed quantitative and qualitative results provide in-depth comparison and learning.
1-to-1 in-depth briefings available for police forces and suppliers
Contact Bernard Rix for details:
[email protected]
Don't miss this invaluable CoPaCC thematic report featuring high-level results and analysis
Subscribe online or contact us for organisation wide subscription details:
[email protected]
Police ICT: User Perspectives survey
produced and supported by:



Undertaken by CoPaCC and supported by the Police Federation of England and Wales, the Police Superintendents' Association of England and Wales, and the Association of Scottish Police Superintendents, the survey provides a unique, independent insight into what police officers really think of their police ICT systems.
It is the most comprehensive survey of police ICT users' views ever conducted in UK policing and has been described as a 'catalyst for change' by senior police leaders.
In an online survey, officers were asked ten questions covering all aspects of ICT in their roles including investment in ICT, provision of mobile data devices, reliability and integration, usability and ease of access.
As well quantitative responses measuring levels of satisfaction in each area, users also provided over 5,450 detailed and candid comments about their experiences.
Nearly 1,500 officers responded to the survey from forces across England, Wales and Scotland and, to enhance the analysis, the survey collected key demographic information such as age, length of service, rank and role.
This initial report provides results on how users rate their ICT provision and sample comments. We also highlight the top five and bottom five police forces for officer satisfaction in each ICT subject surveyed.
The analysis includes a look at how larger forces compare to smaller forces as well as comparing those forces using Northgate Connect and Niche Minerva systems.
Further to this report, a police ICT thematic will be published in early 2018. As well as providing expert analysis of the results, this will 'deep dive' the vast amount of qualitative data provided by the survey to enhance our understanding of police ICT and shape the service's next steps.
This is the first in what will be an annual series of surveys of Police ICT Users.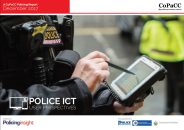 Police ICT: User perspectives
 A CoPaCC Thematic Report                                                         
 Subscribers click here to download                                  
 Don't have a subscription?
 Find out about purchasing an individual subscription to Policing Insight here
Alternatively, you may already have subscriber access via your organisation – just register/log in using a valid email address from your organisation and you will be automatically upgraded if there is a subscription in place.
Most UK police forces/OPCCs already have an organisation wide subscription so many police officers and staff already enjoy free access.
You might also already have free access if you are an academic studying/researching in policing and criminology, with most relevant UK institutions in this sector having organisation wide subscriptions in place. 
To find out how your organisation can purchase a subscription, please email [email protected]