Emergency 999 calls to the police have risen by 14 per cent over the last three years while those to the non-emergency 101 number have fallen by 12 per cent, according to Policing Insight's latest thematic on call handing and online crime reporting.
CoPaCC Police Contact Management: Demand Analysis Report also revealed that forces are struggling to answer both 999 and 101 calls within the time limits that they have set themselves.
"
Data from the 35 UK forces that responded indicate that 999 calls have risen by 14.3% while 101 calls have fallen by 12.7% in the three years from April 2016 to March 2019
The report examines trends and performance in UK call handling and online crime reporting. It draws on data obtained via Freedom of Information requests (FOIs) to 48 police forces (46 UK plus Guernsey and States of Jersey police forces) for the three years 2016/17 to 2018/19. Thirty six forces responded (including States of Jersey) to the call handling FOI in time for analysis and 26 forces responded to the online reporting FOI.
The rich data sourced has provided some valuable insights, some predicable and some surprising. Inevitably, the data prompts more questions than it answers in a subject of great complexity, but we hope that the report will facilitate comment and discussion amongst police stakeholders as well as informing the wider police and criminal justice community.
Data from the 35 UK forces that responded indicate that 999 calls have risen by 14.3% while 101 calls have fallen by 12.7% in the three years from April 2016 to March 2019.
It would seem that UK police forces (data from 25 forces) are struggling to cope with the increase in 999 calls with 13.1% of them not answered within the target waiting time set by the forces themselves. The proportion of 101 calls not answered within the target waiting time is 23.7% despite the target waiting times being considerably longer (101 waiting times range from 30 to 120 seconds as opposed to 10 to 15 seconds for 999 calls). The 101 call performance may seem less important but with 11.8% of 101 calls not answered or dropped by the caller, is this pushing callers towards the 999 service? Might the increase in 999 calls and decrease in 101 calls provide part of the answer?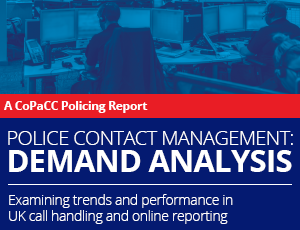 Maybe unsurprisingly the research shows a strong link between call volumes and seasonality and temperature.
The report also reveals how closely the trends of average daily 999 call volumes for different forces match over the period April 2016 to March 2019. As our analyst Gavin Hales remarks in the report: "[The common trends suggest that] the drivers of 999 demand are consistent across force areas and therefore operate at a macro level, without being influenced by the actions of the forces themselves. That may have important implications in terms of resource planning, suggesting that forces might pool their call demand analytical capacity, or that some kind of demand forecasting could take place at a national level."
There were responses from 26 forces to the FOI asking about online reporting of crime but only two forces demonstrated material volumes of reporting in the most recent data from the year April 2018 to March. West Yorkshire lead the way with 166,173 crimes reported online with the Metropolitan Police Service just behind with 110,068 reports.
These are just a few observations from the report which delivers many more insights with expert analysis from Gavin Hales, the independent researcher, police commentator and former Deputy Director of the Police Foundation. CoPaCC Director and former Greater Manchester Police Assistant Chief Constable Ian Wiggett provides commentary and a policing context to the findings.
This report will be followed by a CoPaCC thematic report on police contact management which will build on this data, looking at the challenges and drivers of demand as well as showcasing innovative solutions in policy, practice and technology addressing the challenges.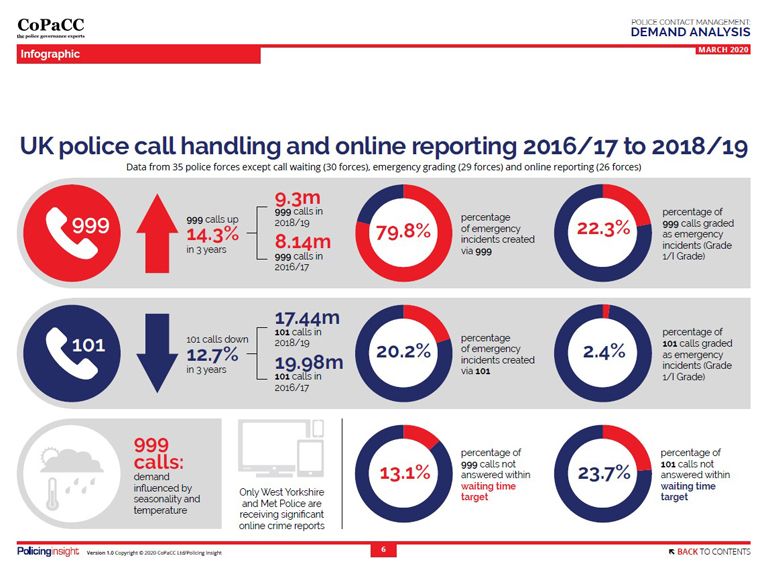 To download the CoPaCC Police Contact Management: Demand Analysis Report please click here
The report is available for subscribers with access to an organisation-wide subscription or with a premium individual subscription.
Most police forces and key police and criminal justice organisations, as well as many academic and commercial organisations in the sector, have organisation-wide subscriptions providing free access to their officers and staff. Please register a free account on Policing Insight using your organisation email address – if your organisation has a subscription, your account will be automatically upgraded to Subscriber access allowing you to download the report.
If your organisation does not have a subscription, please contact [email protected] to enquire about gaining access to the reports.
CoPaCC is also able to provide one-to-one briefings on the data to organisations requiring custom analysis from the considerable valuable data generated by the research. Please contact Bernard Rix at [email protected]