Policing Insight is a valuable resource for students studying for a policing degree qualification, and is the leading platform to keep up to date with the latest in progressive policing. It's where the global police and criminal justice community both consume and share knowledge, opinion, best practice and analysis.
Our resources for policing degree students include:
The Police Student series, which supports degree-entry recruits to the police service, and aims to provide a framework for students as well as highlighting the deep resources of Policing Insight information. The series includes regular in-depth articles, written by our Academic Editor, Dr Carina O'Reilly (a Senior Lecturer in Criminology at the University of Lincoln) which focus on developing recruits' learning and understanding of policing and how it impacts on the day-to-day delivery of policing.
Our Weekly academic summary series curates the key policing-related research that's been published online each week, with links to the original journal articles, and selected abstracts helping you to stay informed of all the relevant research.
Media Monitor is a daily brief, curated by our researchers, of links to news, features and reports from the international media as well as policing and criminal justice organisations. The service contains an extensive research database of over 47,000 links going back to 2015, which are tagged in depth and searchable by keyword, date range, region, subject and source. If you need to research a topic, this invaluable service is a great way to generate a quick list of relevant resources.
Policing Insight articles cover the breadth of policing and criminal justice in the UK and around the world, with latest thinking in progressive law enforcement from experts and stakeholders in policing, criminal justice, academia, the third sector and industry.
CoPaCC research and thematic reports cover a range of topics including Brexit, drones, body-worn video, the National Police ICT User Perspective survey and report, police contact management, and more.
Many students have free subscriber access via their academic institution and/or police force
As a degree students you may already have free subscriber access to all Policing Insight content via your academic institution, or via your police force; you can find the list of academic institutions and police forces with subscriptions in place here.
If your organisation or institution is a subscriber, simply register for a free user account using your institutional or police force email address and your account will be automatically upgraded to subscriber access.
For more information on purchasing a subscription for your organisation to benefit officers, students or staff, please email [email protected]
Related article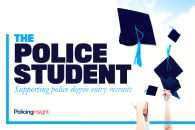 Welcome to your policing degree – a new qualification for a new cohort, and the next generation of police officers
If you're embarking on one of the latest police training routes – whether it's a policing degree, a degree apprenticeship or a postgraduate qualification – you will be among the first cohorts to study a degree course specifically designed to prepare you for the challenges of the job; Policing Insight Academic Editor Dr Carina O'Reilly explains how the courses differ, and offers tips on the best sources and resources to help you get the most from your studies.