The report A duty to protect: Police use of protective measures in cases involving violence against women and girls made a total of 15 recommendations, of which 10 required a response from Chief Constables and the National Police Chiefs' Council (NPCC). The report also included actions for HMICFRS and the College of Policing regarding their own work.
"
Whilst it is recognised that policing leadership must drive change, VAWG is a societal issue which policing alone will not be able to solve.
In June 2022, NPCC, on behalf of policing, responded in detail to the recommendations set out in the report. One of these recommendations was that Chief Constables should review and if necessary, refresh their policy on how the force processes notifications on Non-Molestation Orders (NMOs), so officers can easily identify if a NMO exists.
The 30 police forces that contributed to NPCC's submission had made some or significant progress in achieving this recommendation. However, there is variation which appears to be primarily due to the strength of their relationship and engagement with civil courts in their area.
Strengthening partnerships to solve VAWG
The National Police Chiefs' Council (NPCC) and the Association of Police and Crime Commissioners (APCC) at their annual Summit in November have pledged their joint approach to improving the response to VAWG through strengthening partnerships. They are developing a partnership plan due to be published by the end of the year and which will include proposals to bring together a national VAWG strategic partnership board to oversee and focus on agreed approaches.
Whilst it is recognised that policing leadership must drive change, VAWG is a societal issue which policing alone will not be able to solve. There is a critical role that partners across England and Wales play in health, education, child protection, housing, local government and the wider criminal justice system alongside organisations which work in technology and the night-time economy.  
Accelerating access to legal support and protection
The free-to-use WEPROTECT app has been developed by the Domestic Abuse (DA) Alliance in conjunction with police and domestic abuse support service providers. All victims referred through WEPROTECT benefit from early legal assistance and intervention, ensuring that the relevant course for protection is actioned without delay. Real-time status update alerts are sent to the referring officer so they can follow the progress of each case through the legal process. Crucially, copies of court orders secured are supplied, as soon as they are granted, via the secure online WEPROTECT portal, built on the world-leading Salesforce customer relationship management platform.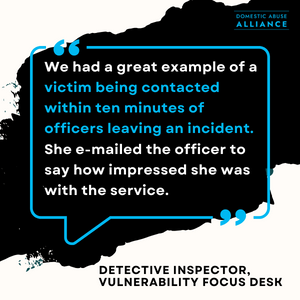 Visibility of court orders on the Police National Computer
NPCC's response highlighted that most police forces receive notification, usually into their Police National Computer (PNC) Team from civil courts when a NMO is granted. However, a small number of forces' processes are still in the process of being reviewed and are consequently behind others with more established arrangements already in place. One respondent indicated it can take up to six months for a NMO to appear on PNC after being issued. The WEPROTECT service can provide copies of all court orders granted directly to forces for uploading to the PNC, so officers are immediately made aware of them.
The DA Alliance was directly referenced in a specific example of notable practice within NPCC's response to the report. This police force referred to its adoption of the Centre for Women's Justice (CWJ) suggestion that constabularies equip officers with information pathways for referral to third party support services, as opposed to providing specialist knowledge on applications for civil orders. By doing so, this is understood to lead to better outcomes for victims by enabling them to access specialist support which could include assistance in making applications for NMOs.
Since introducing this approach in September 2020, the force has made 2343 referrals to the DA Alliance and several hundred NMOs have been obtained.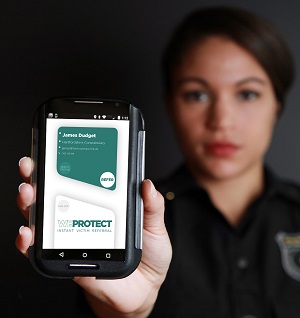 Building awareness of referral pathways
Police forces have been advised by NPCC to ensure they are aware of local services and ensure they can (and do) meet standards acceptable to the force and its safeguarding partners. Also, all forces should ensure officers are aware of the referral pathways available to DA victims, whether these lead to a large (national), or smaller provider offering a local 'by and for' services.
NMOs are also referenced in the national VAWG Outcomes and Performance Framework and it is anticipated they will be referenced in force level VAWG plans, which are currently under review by the national lead.
Currently, as the DA Alliance, we focus primarily on supporting victims of domestic abuse. Therefore, we primarily handle cases to secure non-molestation and occupation orders to help protect any individual at risk of harm.
Breaking the cycle of abuse
We know WEPROTECT works. A recent service assessment into the impact of the DA Alliance and our Legal Partner Network revealed 72% of victims (for whom we had secured a court order) were no longer suffering from abuse. 86% of respondents said they were satisfied with the service provided by the Domestic Abuse Alliance. And 74% of respondents said they were satisfied with the service provided by their appointed solicitor.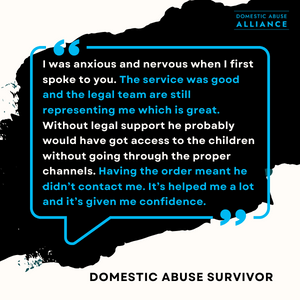 Our Legal Partner Network can help to secure other court orders including Child Protection Orders, Prohibited Steps Orders, FGM Protection Orders, and Forced Marriage Protection Orders.
We have an ambitious product roadmap for WEPROTECT, to accelerate access to legal support even further, by connecting victims and solicitors even faster. These developments will provide even greater insight for officers and equip force safeguarding leads with an even richer picture of the outcomes of referrals, helping to improve the whole-system response to tackling VAWG.
In the future the free-to-use WEPROTECT app may also be used to refer victims of other crimes to advice and legal support, and where alternative civil orders can be sought.
Visit: www.domestic-abuse.co.uk/weprotect/ or email: [email protected] to find out more.
Domestic Abuse (DA) Alliance service overview