The latest ONS data revealed that the number of police recorded domestic abuse-related crimes in England and Wales rose 6% in the year ending March 2021 to 845,734.
The same data set showed that, for the third successive year, the CPS charging rate for domestic abuse-related crimes in England and Wales decreased, to 70% in the year ending March 2021, down from 76% in the year ending March 2018.
At the same time, demand on domestic abuse helplines increased in the year ending March 2021 with a 22% increase in people supported by the National Domestic Abuse Helpline in England.
ONS suggests that "this is not necessarily indicative of an increase in the number of victims, but perhaps an increase in the severity of abuse being experienced, and a lack of available coping mechanisms."
Putting all of this together, it is clear that victim engagement with the civil legal sector is vital to ensure that the necessary protections are sought and put in place, to help end the cycle of abuse.
Protection is Prevention
The WEPROTECT instant victim referral service enables police officers to make an immediate referral, via the WEPROTECT app, from the scene of a domestic abuse incident.
All victims referred through WEPROTECT receive professional legal support, provided by the Domestic Abuse (DA) Alliance and our Legal Partner Network, ensuring that the relevant assistance is provided and the right protection is put in place, without delay.
WEPROTECT is currently being used by police forces and specialist domestic abuse support service providers across Hertfordshire, Cambridgeshire, Bedfordshire and Cumbria. We also receive referrals from other frontline agencies, across England and Wales, including housing, charities and support helplines.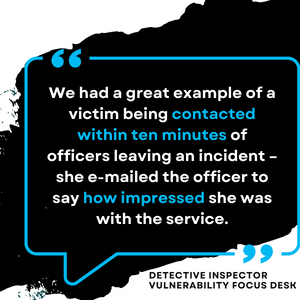 The WEPROTECT service was first piloted by Cambridgeshire Constabulary in February 2020. Following a successful six-month pilot phase and evaluation, the WEPROTECT service was rolled out force-wide in Cambridgeshire in September 2020. All frontline police officers are equipped with the WEPROTECT app on their mobile devices.
Over 5,000 victims of domestic abuse have since been referred to the DA Alliance by Cambridgeshire police officers, via WEPROTECT. Crucially, almost 500 protective injunctions have been secured. This equates to four women each week securing legal protection to help them break free from abuse.
Detective Inspector David Savill, Cambridgeshire Constabulary said, "In Cambridgeshire we are seeing increased demand on the collective resources that deal with reports of domestic abuse and provide support to victims across the county. Frontline services are being challenged, rightly, to improve the response to violence against women and girls (VAWG). The new Domestic Abuse Act aims to ensure that victims have the confidence to come forward and report their experiences, safe in the knowledge that they will be supported, and the perpetrator will be pursued.
"In 2021/22, HMICFRS inspected how well Cambridgeshire Constabulary performed in ten areas of policing. We were rated as 'good' at protecting vulnerable people and the Vulnerability Focus Desks and Early Intervention Domestic Abuse Desks we have created within the Constabulary were highlighted as innovative practice.
"Rolling out the WEPROTECT app Force wide has helped enhance our frontline response to supporting vulnerable people and provides an additional level of safeguarding for those experiencing domestic abuse. Our officers are encouraged to make referrals to the DA Alliance, during attendance at all domestic abuse incidents, to ensure victims receive the legal support they need, as soon as possible.
"Our WEPROTECT data dashboard provides a customised overview of all referrals that our officers have made, and the outcome of the legal support provided. We are using this data to support our insight under the statutory framework in relation to policing VAWG, so we can continue to improve the Force's response in this critical area."
Following the victim's journey
Capturing volume data on referrals is a useful way to monitor officer engagement with our service and the incidence of domestic abuse, but it only tells us half the story – how many, not what happened. That's why, through the data we hold in our secure WEPROTECT online portal, we can also track the victim journey throughout the legal process and beyond – to monitor engagement and satisfaction with the support provided.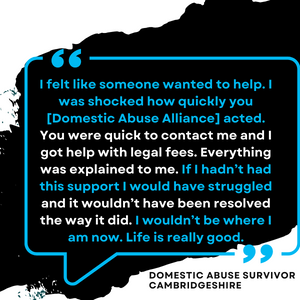 In 2022 we sought the views of victims of abuse for whom we have helped to secure protection orders (cases concluded between 1 February 2020-31 December 2021), following referrals received from Cambridgeshire Constabulary. We wanted to establish whether securing legal protection through WEPROTECT has enabled these people to live a life free from abuse.
Of the sample, 50 victims completed an anonymous survey about their experiences.
36 victims (72%) stated that they were no longer suffering from abuse.
12 victims (24%) stated they were still living with abuse, and some provided reasons for this including breach of the non-molestation order and personal issues they were experiencing at the time.
Nine victims (18%) disclosed that they had suffered from abuse for more than five years. Of these nine, three disclosed that they had been suffering abuse for more than 20 years.
43 victims (86%) said they were either somewhat or very satisfied with the service provided by the DA Alliance.
37 victims (74%) said they were either somewhat or very satisfied with the service provided by their appointed solicitor.
Victim support
Approximately 75% of all referrals received by the DA Alliance are for general advice and assistance in matters that do not require court intervention. This includes providing information about victims' legal rights and obligations, and signposting to partner agencies for other forms of practical and emotional support. These matters are all handled, pro bono, by our in-house team of call handlers and caseworkers.
As many as one third of the domestic abuse referrals we receive are for victims seeking legal assistance and protection who are not eligible for legal aid and who have no recourse to public or private funding. In these circumstances the DA Alliance and our legal partner network will support them under our pro bono commitment.
We do not currently receive any public or private funding to support our pro bono work, and we are actively engaged with policy makers about expanding the provision of pro bono legal support in England and Wales, to ensure no victim of domestic abuse is ever left legally unsupported.
Accelerating protection
We know that speed of response is vital in cases of domestic abuse. Traditionally, courts will follow case law and guidance issued by judges, that there should be a significant incident placing the victim at risk of harm within the last two weeks preceding an injunction being sought. Of course, this is a subjective matter and rather than applying a blanket rule, we take a case-specific approach and, as long as there are merits for an application, it will be submitted. Invariably there may be circumstances where emergency action is required even when the last incident is outside of the preceding two weeks.
"
It takes approximately 60 seconds to make a referral through the WEPROTECT app. 90% of victims referred to the DA Alliance by Cambridgeshire Constabulary, via WEPROTECT, were contacted within 24 hours of being referred.
It takes approximately 60 seconds to make a referral through the WEPROTECT app. 90% of victims referred to the DA Alliance by Cambridgeshire Constabulary, via WEPROTECT, were contacted within 24 hours of being referred. Traditionally, this process could have taken up to two weeks, once a referral has been made by the police to a specialist support service and appropriate legal advice sought.
Providing that all the relevant documentation (gateway letters, witness statements etc.) can be obtained and prepared in good time, our Legal Partner Network will aim to issue the application to the relevant court within 24-36 hours.
We have an ambitious product roadmap for WEPROTECT, which will further improve the victim journey by drastically reducing the time to legal support by connecting victims with solicitors even faster.
These developments will provide even greater insight for officers, including an improved in-app user experience, and the provision of legal documents, at their fingertips. Additional features within the WEPROTECT online portal will equip force safeguarding leads with a rich picture of the outcomes of referrals, enabling greater insight to be shared with independent force inspectorates.
A whole-system approach to tackling domestic abuse
We know that, on average, high-risk victims live with domestic abuse for over two years before receiving effective help, and they are likely to have experienced multiple incidents of abuse, often escalating in severity, over that period of time.
We are embedded in the local Domestic Abuse frameworks in Cambridgeshire, Hertfordshire and Cumbria linking in with Police, County Council, and other local charities and services to provide a joined-up approach to tackling domestic abuse locally.
Crucially, we are actively seeking where we can establish effective pathways to legal support, before domestic abuse becomes a police matter.
Supporting Employers to Act on Domestic Abuse
The DA Alliance is proud to be a member of the Employers' Initiative on Domestic Abuse (EIDA). Together with the support of The HR Dept., which offers outsourced human resources support and advice to more than 6,000 SMEs in the UK and Ireland; EIDA, the DA Alliance and Sharon Livermore (a Cambridge-based businesswoman and DA survivor) have created a landmark domestic abuse policy; 'Sharon's Policy' and a detailed set of guidance notes informed by Sharon's personal experience. This policy forms part of EIDA's free toolkit for employers, encouraging them to make tackling domestic abuse their business.
We have also joined forces with The Retail Trust and Dunelm to encourage other retailers to recognise their responsibilities to take action on domestic abuse and support their workforce. Since the Retail Industry Against Domestic Abuse (RIADA) campaign launched in July 2021 several other large retailers have pledged their support including IKEA, Ann Summers, and Superdrug. The Retail Trust has since reported that the RIADA campaign has been its most successful campaign to date.
Our work does not stop here. By partnering to protect we want to create the best possible outcomes for those experiencing domestic abuse, so that they no longer have to live in fear. Please join us – click here to find out more.
About the Author: Razi Hassan is co-founder and Director of Partnerships and Communication at the Domestic Abuse (DA) Alliance. The DA Alliance brings together organisations working on the frontline of domestic abuse with the legal sector to provide immediate legal support and protection for victims. The free to use WEPROTECT app enables an immediate referral to be made to the DA Alliance who support domestic abuse victims to seek professional legal advice

and secure protection measures, such as court orders and injunctions, to help them break the cycle of abuse.
Visit: www.domestic-abuse.co.uk Email: [email protected].