CoPaCC launches the Digital Evidence Management: User Perspectives report, a fascinating insight into the challenges faced by officers and staff in dealing with the increasing demands of sourcing, processing and sharing digital evidence to build criminal cases.
"
We do not have adequate systems to be able to receive and handle electronic evidence at all

Inspector, neighbourhood policing in a small rural force
The report provides results and analyses from two new questions added to the 2018 CoPaCC National Police ICT User Survey the ask about the challenges and planned police force investment in Digital Evidence Management . The questions were developed in partnership with NICE Public Safety, suppliers of digital evidence management solutions.
The survey received responses for these two additional questions from 3599 officers and staff who also provided over 900 specific comments on their experiences.
Challenges faced by the frontline
The first question asked was "Collecting, analysing and sharing growing volumes of digital evidence for investigations is becoming increasingly challenging. Which of these present challenges for your force?". Officers and staff were able multi-select from the following options and comment on their experiences:
Crowd sourcing photos and video evidence from the public
Manually collecting evidence on site (such as CCTV video)
Redacting video
Converting proprietary CCTV video into a playable format
Logging on to multiple systems to pull evidence for investigators
Assembling digital evidence into a timeline
Knowing when new digital evidence has been added to a case
Sharing evidence electronically with prosecutors
None of the above options
The feedback from officers and staff indicated that all were significant challenges but the standout pain points for police forces were in collecting, converting and sharing digital evidence with over 50% of respondents indicating that these were the top three challenges in their force. 
A PCSO from a small rural force says "Not enough encrypted USB sticks to go around and viewing station is always broke."
"One of the issues is the CPS and our force having a different computer system. When we send them things it can be challenging as it is not always clear they have everything. Sometimes you turn up at court and the solicitor will not have everything you have sent on their system." complains a detective sergeant from a large urban force.
A police staff member also working in CID says "Tasks on Niche are often missed – it would be better to receive emails. The 1MB limit on digital items sent over CJIT is incredibly limiting and I have to email documents on 90% of the case files I send."
An inspector working neighbourhood policing in a small rural force sums up his dissatisfaction concisely; "We do not have adequate systems to be able to receive and handle electronic evidence at all"
Plans for investment
The second question was "Does your force plan to invest in technology to enable it to better manage digital evidence in the future?". Respondents were directed to only provide an answer if they had that specific knowledge. They were asked to select one answer from the following options:
Yes, within the next six months
Yes, within the next year
Yes, within the next two years
Yes, within the next five years
No
I do not know
Unsurprisingly most respondents did not have the direct knowledge and answered "I do not know" but those that did respond indicated that most police forces are prioritising investment in digital evidence management in the very near future and makes for reassuring reading that UK forces are recognising the issues raised by officers and staff.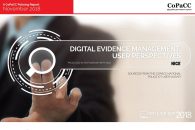 Digital Evidence Management: User perspectives
 A CoPaCC Thematic Report                                                         
 Registered users and subscribers click here to download                                  
Don't have an account? Register FREE here 
For in depth views from the frontline on all round police ICT provision read the CoPaCC Police ICT: User Perspectives report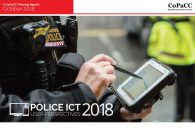 Police ICT: User perspectives
 A CoPaCC Thematic Report                                                         
 Subscribers click here to download                                  
 Don't have a subscription?
 Find out about purchasing an individual subscription to Policing Insight here
Alternatively, you may already have subscriber access via your organisation – just register/log in using a valid email address from your organisation and you will be automatically upgraded if there is a subscription in place.
Most UK police forces/OPCCs already have an organisation wide subscription so many police officers and staff already enjoy free access.
You might also already have free access if you are an academic studying/researching in policing and criminology, with most relevant UK institutions in this sector having organisation wide subscriptions in place. 
To find out how your organisation can purchase a subscription, please email [email protected]