11.52am
The debate on the merger between Devon and Cornwall Police and Dorset Police has now ended. 
11.49am
The voting is as follows: 12 for (not supporting the merger), 4 against and one abstention. The Police and Crime Panel has backed the Police and Crime Commissioner's decision which is 'minded' to NOT go ahead with the merger of Devon and Cornwall Police and Dorset Police. 
11.47am
The Panel has now put forward a proposal which has been seconded: This Panel does not support the merger of Devon and Cornwall Police with Dorset Police to support the Commissioner's view. Members are now logging their vote.
11.44am
Cllr Chris Batters: This boils down to central funding when central funding was cut back, we were left holding the baby. 
11.42am
Alison Hernandez: It's not flawed to have an issue charging a community more and giving them nothing in return. I'm uncomfortable with that. Most people are indifferent to the organisation of policing. They just want policing on their streets. It won't deliver what our communities are looking for. 
11.41am
Cllr Roger Croad (Chair): Your reasons for not supporting the merger are completely flawed. The harmonisation part was never properly presented to the public. We have plenty of time to harmonise precept. The numbers responding to the survey are pathetic. When Devon County County went out on library consultation, we received 20,000 responses. The majority of Devon County Council Cabinet are fully in favour of a merger. The business case supports a merger.
11.36am
Cllr Carolyn Rule: We should go for a vote and we should support a no merger and support the Police and Crime Commissioner. 
11.35am
Cllr Rachel Sutton: This is too high risk. 
11.33am
Alison Hernandez: There are lessons to learn, but there is no template. This is the first potential merger in fifty years. A lesson for Government is that you need to have all the options on the table when looking at a police merger especially when the differential is tiny compared with local authority mergers. 
11.31am
Cllr Philip Hackett: We need to look at the lessons we need to learn from this. 
11.29am
Alison Hernandez: The effort to get to this stage has been huge. If we go for merger, those efforts will be huge. That's why the benefits have got to be there. More time isn't going to help. 
11.27am
Cllr Margaret Squires: When we look at the business case, we're disappointed we're not seeing 430 officers. Do you think it's acceptable to make a decision at this time?
11.25am
Cllr Philip Rackett: There's not enough evidence to say there are going to great savings. It's got to have the ability to produce the policing the public want. Local policing is important. It's critical we make the right decision for all communities. We should reject this merger. 
11.23am
Alison Hernandez: We are increasing police officer numbers. Around harmonisation, no matter how much Dorset PCC and I agree about harmonisation, it may not go through legislation. It's a risk. You're unlikely to harmonise now because we don't have assurance it will go ahead. The funding review and the comprehensive spending review create even more risks. That doesn't help. So you wouldn't harmonise early. 
11.21am
Cllr Roger Croad: Commissioner your two main planks for rejecting the merger are rubbish – is that right?
11.17am
Cllr Stuart Baker: I'd like more input from the chief constable. I haven't seen in the business case the operational benefits. If the merger doesn't go ahead where are we going to find savings? We have four years to bring about harmonisation. The additional wouldn't have been that great. It's about how you manage that. It shouldn't be a concern. Different consultation methods will give different results, but my main concern is how are we going to get the additional officers if we don't make changes?
11.15am
Cllr Roger Croad (Chair): Shouldn't officers go where they are needed?
11.14am:
Cllr John Mathews: Rural areas of Devon and Cornwall will lose out. Those 70 officers will go to urban areas. I cannot support that merger. 
11.13am
Alison Hernandez: Finances are a consideration. We have a healthy level of reserves unlike Dorset, built up by our taxpayers. It's community money. We looked at capital borrowing. Dorset PCC agreed to borrow money as he is debt-free. He's chosen to borrow to overcome some of those issues.
11.10am
Cllr Malcolm Brown: Consultation rushed and not to the standard we would have hoped. Financially, Dorset is in a weaker position and could drag us down.
11.06am
Cllr Robert Excell: A merger doesn't demonstrate operational benefits or value for money for Torbay residents.
11.04am
Cllr Gareth Derrick: I'd like to come out strongly against the merger, on behalf of Plymouth City Council. Operational benefits seem to be missing from the heart of this debate. The 430 officer aspiration is history, on which the survey was based. This skewed results. To proceed would be wrong.
11.02am
Alison Hernandez: It was not a formal consultation. That was one of the failings and learning for the future is that it must be a statutory consultation. Those online had access to more information. Those on the telephone survey did not. 
Cllr Kevin Towill: Questions in survey presented the merger as a fait accompli. Have you had much input into the process of the questionnaires and the consultation?
10.58am
Alison Hernandez: All four decision makers needed for the business case to be submitted to the Home Office.
10.57am
Alison Hernandez: I've been seen as supporting the merger,but what I supported was examining the feasibility of the merger.
10.56am
Cllr Chris Batter (Vice-Chair): thank you for listening to the views of the councils. We represent the public. I haven't met or talked to anyone in favour of the merger in Cornwall.
10.54am
Councillor Sally Haydon, representing Plymouth. Panel should reject the proposal. 
10.51am
Councillor Philip Hackett: I'm concerned about what a merger means on a local level. That is what local people are concerned about. I have concerns we don't have the mandate of the public to go ahead.
10.49am
Alison Hernandez: I wanted to charge more, but have been told that 'equalising up' is not an option.
10.47am
Councillor Tom Wright: Shouldn't we listen to chief constables' view that this is the best way to police? And shouldn't we ask people to pay more for policing? There is resistance to any form of change. Are we happy the public fully understand the issues? I'm concerned they didn't understand how this merger greatly improves operational efficiency.
10.46am.
Alison Hernandez: Merger will only mean an extra 100 officers. 70 for Devon and Cornwall. We should retain current structure.
10.45am 
Alison Hernandez:The other area is the £18 differential on precept tax. There is limited support for a rise in the precept. Home Office have not given me assurances regarding precept model. The merger doesn't increase connectivity without an increase in officers.
10.42am:
Alison Hernandez: Some elected representatives across all parties are not supportive of merger. I'm not convinced there is public support. Telephone surveys are not enough to make decision and I have considered all those that have responded to the survey.
10.38am
Alison Hernandez: I've looked at both sides, positively and negatively and considered all stakeholders views. There is a clear and articulate business case from an operational perspective, but I have wider responsibilities especially around the precept and stakeholder support.
10.36am
Alison Hernandez has been asked to outline the police merger, including the steps taken and the rationale around the merger.
10.33am
And we're off!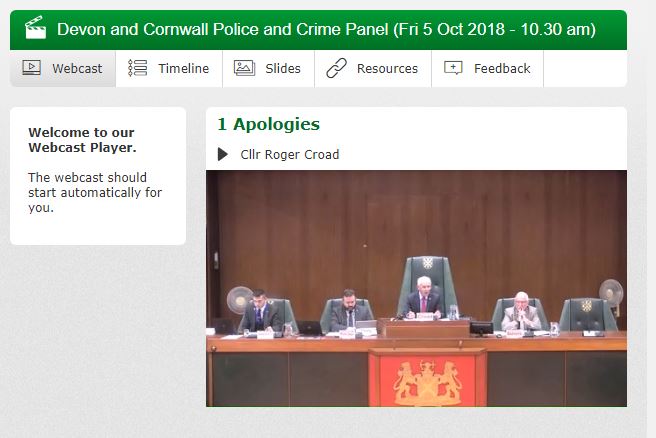 10.06am
A survey by the Police Superintendents Association revealed 82 per cent of their members supported force amalgamations as a more effective Governance arrangement.
9.54am
Online survey results show a marked difference between the counties response to the statement: Police forces already work closely together, a merger seems like the next logical step.
Cornwall – 16 per cent agreed or strongly agreed 
Devon – 36 per cent agreed or strongly agreed
Dorset – 48 per agreed or strongly agreed 
9.51am
The role of a Police and Crime Panel is to:
review the police and crime plan and annual report
scrutinise (and potentially veto) the PCC's proposed council tax precept* for policing
hold confirmation hearings for the PCC's proposed appointment of a Chief Constable and senior support staff (the panel may veto the Chief Constable appointment)
scrutinise the actions and decisions of the Commissioner (but not the
performance of the police force)
consider complaints against the PCC of a non-criminal nature
the money collected from Council Tax for policing
9.48am
Bournemouth councillors oppose Dorset Police merger (BBC, 3 October)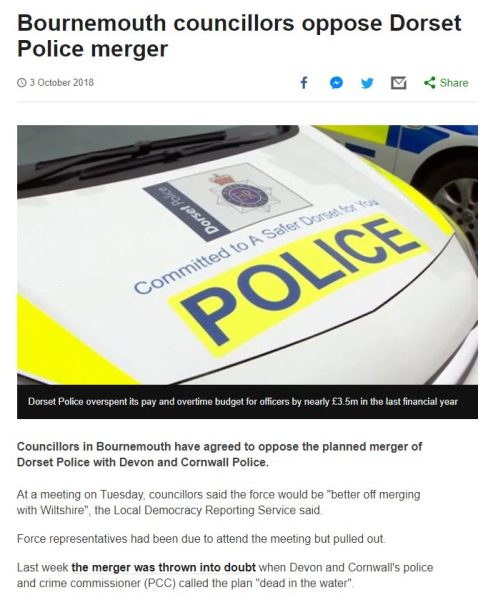 9.42am
Alison Hernandez: My decision is about democracy and it is about localism. I was elected to serve the people of Devon, Cornwall and the Isles of Scilly.  I have been listening carefully to what they and their local elected representatives have been telling me over the summer and thoroughly considered the detailed breakdown of the engagement survey. The public of Devon, Cornwall and the Isles of Scilly do not support this merger in my view. (Statement issued 3 October)
9.37am
Martin Underhill: "There are very few absolutes in policing. It is a challenging and fluid environment that is subject to a diverse range of threats, harms and risks.
However, occasionally an approach is developed that demonstrates significant benefits above and beyond all other options. The proposal to merge Dorset Police and Devon & Cornwall Police is one such approach.
I, alongside both the Chief Constables of Dorset and of Devon & Cornwall, have concluded that the creation of a new force for Dorset, Devon and Cornwall will give us the best opportunity to continue to deliver services effectively, and to meet the expectation of our communities." (Statement issued 4 October)
9.32am
Alison Hernandez: "One of the major stumbling blocks has been around the council tax precept. Because Dorset residents pay £18 more per year for an average band D property, a merger would mean precepts would go up in Devon and Cornwall and go down in Dorset." (Statement issued 3 October)
9.21am
The meeting is scheduled to begin at 1030am this morning. Exploration of the potential merger is item six on the agenda.
9.23am
Membership of Devon and Cornwall Police and Crime Panel is as follows:
Councillor David Atherfold  (Committee Member) 
Councillor Stuart Barker  (Committee Member) 
Councillor Chris Batters  (Vice-Chair) 
Councillor Roger Croad  (Chair) 
Councillor Robert Excell  (Committee Member) 
Councillor Dominic Fairman   
Councillor Philip Hackett  (Committee Member) 
Emily Macaulay  (Co-Optee (voting)) 
Councillor John Mathews  (Committee Member) 
Councillor Mike Nelhams  (Committee Member) 
Councillor Carolyn Rule  (Committee Member) 
Councillor Philip Sanders  (Committee Member) 
Mrs Margaret Squires  (Committee Member) 
Councillor Rachel Sutton  (Committee Member) 
Councillor Kevin Towill  (Committee Member) 
Sarah Wakfer  (Co-Optee (voting)) 
Keith Wingate  (Committee Member) 
Councillor Tom Wright  (Committee Member)