Free CPD Seminars Cover Recent Terrorist Incidents
Terrorism is one of the key topics in the Lessons Learnt Theatre (sponsored by UCLan PROTECT), where emergency services and partner agencies will share their experiences of responding to real incidents. Chief Inspector Richard Butterworth, Deputy Head, National CBRN Centre will talk about the multi-agency response to CBRN incidents, examining how this looks to responders on the ground and what specialist resources can be expected.
Simon Lewis, Head of Crisis Response at the British Red Cross will speak on managing communities' response to crises in the aftermath of the Manchester and London terror attacks and the Grenfell Tower fire.
Dan Stephens, Chief Fire Officer of Merseyside FRS and Chief Inspector David Westby of Merseyside Police will share learnings from the New Ferry gas explosion that took place in The Wirral in March.
Innovations in Technology
In the Innovations Theatre, delegates will hear about the work undertaken by the Centre of Excellence for Information Sharing to reduce high demand on blue light services from local residents through education and intervention.
Richard Crosby, Devon and Cornwall Police Force Volume Crime Sgt will lead a session on the Murder of Janine Munday and Operation STOVER, explaining what can occur when technical safeguarding is not conducted in a proper manner.
There will also be a presentation on the capabilities of the NEXES app and the benefits this offers both call centre operatives and citizens, especially those with special or additional needs. Lancashire Fire & Rescue Service will reveal how its drones are being used to assist the police, and United Kingdom Atomic Energy Authority centre for Remote Applications in Challenging Environments will explain how its facilities will aid testing and efficient procurement of drones and robotics for the police and its partnering emergency services.
With Black Swan events now frequent Luana Avagliano Head of ResilienceDirect will speak on Enabling Multi Agency Response and Recovery at both a national and local level and how technology can support the responder and recovery community.
Mental Health and Wellbeing
In a new seminar theatre dedicated to the health and wellbeing of emergency services personnel, John Sutherland, Chief Superintendent, Met Police will share his experience of suffering a significant nervous breakdown and examine the impact that policing can have on those who serve.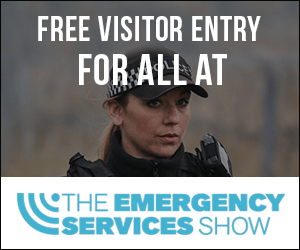 Visitors will hear about strategies for supporting crews post-incident and learn more about the blue light wellbeing framework for all emergency services being developed by the College of Policing in conjunction with Public Health England. Simon Durance and Gary Hayes, co-founders of the charity PTSD999, will present a session on living with Post Traumatic Stress Disorder.
The Police Federation of England and Wales will be sharing details of its Protect the Protectors campaign. The Police Federation is pressing for better training and access to equipment, a wider roll-out of protection measures such as Taser, Body Worn Video and spit guards, more accurate data on police assaults and improved welfare support.
Sara Jane Little of the Alzheimer's Society and Phil Spencer of Cleveland Police will outline the Emergency Services Strategic Commitment on dementia.
All seminar sessions are available on a first-come, first-served basis at the show and no pre-booking is required. Visitors wishing to claim CPD time need simply to collect a Seminar Passport at the end of any sessions attended and visit the CPDme stand at the end of their visit for a certificate of attendance.
First Aid Training for Acid Attacks and Stabbings
The CIPHER Resuscitation Academy Zone will provide CPD resuscitation training for police and other emergency services and first responders as well as covering haemorrhage control for stab and fragmentation wounds. In addition, innovative drop-in sessions will provide simulations dealing with acid attacks and more.
The College of Paramedics will once again deliver a programme of free 30 minute CPD workshops which members of the police force are welcome to attend. No pre-booking is required and all those attending the workshops will be provided with a CPD certificate.
The ATACC Group which has won the Police Framework Contract for delivery of First Aid, Trauma & Casualty Care, is also exhibiting. The ATACC Group is now the largest provider of firearms and public order training outside the Met.
Network and Collaborate
In the networking hub of the show – The Collaboration Zone – over 80 voluntary groups, charities and NGOs will be sharing details of the support they offer, while members of other blue lights services will be available to discuss co-response, current trends and share ideas. The Special Response Unit of the British Transport Police (BTP) for example will be on hand at the show to demonstrate some of the equipment and techniques it uses to help BTP deal with potential threats to the rail network.
BTP will be providing information about other initiatives it uses to detect, deter and disrupt a wide range of crime on the railway, including terrorism, and how the force encourages members of the public to report suspicious behaviour or activity on the network. There will also be a chance to meet the four-legged crime fighters that also help to keep the railway safe and secure.
The NFCC Fire Commercial Transformation Programme/PMO is co-hosting its stand with representatives from the Home Office and Police Commercial (CLEP). The Fire Commercial Transformation Programme has developed quickly since last year's Emergency Services Show; with plans for an inspectorate, the National Fire Chiefs Council (NFCC) is keen to ensure that the fire sector is working towards collaboration, achieving savings and meeting the aspirations of the Police and Fire Minister, Rt Hon. Brandon Lewis.
New Road Safety Feature
New for 2017, a feature dedicated to road safety and rescue will incorporate live extrication and medical demonstrations as well as free seminars. Visitors will be shown how new virtual reality technology is helping drivers with behavioral change and Devon & Somerset FRS will present a new motorbike and road safety educational toolkit.
Stephen Smith, Director of the Federation of Vehicle Recovery Associations will be talking about the expertise, knowledge and resources of road recovery firms and how they can assist the emergency services at the scene of a Road Traffic Collision (RTC).
The Association of Air Ambulances will present on how the roll out of All Lanes Running Highways impacts on all emergency services, rescue and recovery organisations, from egress and exit to an RTC or incident to landing an air ambulance.
REMA, the Retroreflective Equipment Manufacturers Association will be staging a special dark display called From Dusk till Dawn in the exhibition to highlight the life-saving capabilities of retroreflective products including cones, reflecting road studs, flashing lamps, temporary signs and mannequins wearing PPE. Visitors will be able to interact with the display using hand held light sources.
Showcase of Solutions Providers
With over 400 exhibiting companies and organisations, the impressive indoor and outdoor exhibition is a one-stop shop for sourcing all the latest services and equipment. Exhibiting companies include leading names in first response, communications, IT, protective clothing and uniforms, body-worn video, medical supplies, drug testing, vehicles and fleet, vehicle equipment, drones, outsourcing, training, community safety and station facilities. Over 50 solutions providers will be exhibiting at The Emergency Services Show for the first time.
Excelerate for example will be demonstrating a range of surveillance and communications equipment on its stand including the Sherpa portable camera that can climb lamp-posts, the Proculux long range camera which can be used in harsh and challenging environments and a Command Pod deployable resilient data network to facilitate live camera and data streams within the incident ground.
BMW will be exhibiting a strong line up of electric and hybrid range extender vehicles including the BMW i3 94Ah AC REx and a new model BMW G30 530d xDrive AC Touring Roads Policing Unit.
Suppliers of medical products include Water-Jel International which will be exhibiting its burn-treatment dressings and Celox which will showcase Celox Rapid its fastest haemostatic gauze that stops life-threatening bleeding with only 60 seconds compression. Fenton Pharmaceuticals will be showcasing a range of pre-hospital trauma products including tourniquets.
Getting there
The NEC is linked to Birmingham International Station and Birmingham Airport and is directly accessible from the UK motorway network. Entry to the exhibition and seminars, as well as parking is free.
To register for free entry visit http://www.emergencyuk.com