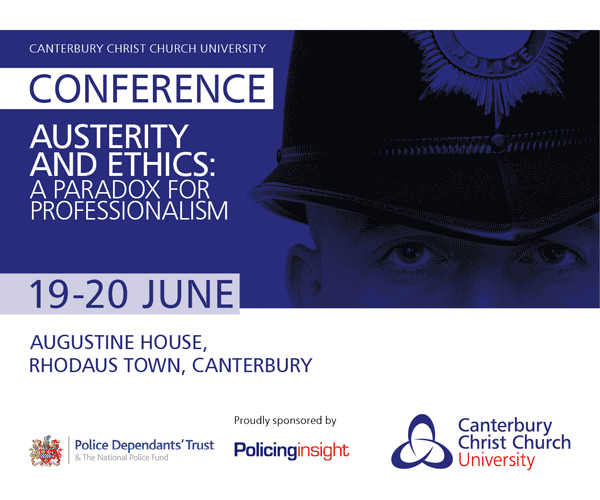 In theory the professionalisation agenda is positive – I fully support the encouragement of innovation, ethical conduct, staff development, recognition of officers' skills, trust, the trying of new ideas and the integration of different forms of knowledge into policing – but in practice it can be difficult to land in a culture that has not necessarily placed value in learning and development in the past. Moreover, policing is reported by many officers as becoming increasingly risk averse which paradoxically can inhibit the discretion and creative ideas encouraged in this new world.
There are a number of reasons why we have decided on this theme for the 2019 conference which I will list here. This subject is important, not least because it effects all officers (senior / new recruits / current) in all sorts of ways. A few of which we hope will be addressed at the conference in June.
Real support for development and learning?
From our own anecdotal evidence at Canterbury Christ Church University, not a week goes by without the receipt of assessment extension request forms or emails about not being able to attend lectures. Reasons given are always:
Called in from rest day / needed on aid
Supervisor will not support attending lectures of me using my study leave
There has been a stabbing (insert another issue) in my area and I cannot get this done
Yes, we have always received these types of requests but no, not to this extent. There is absolutely no doubt that development decisions made by officers to complete personally funded degrees (undergraduate and postgraduate level) are often not being practically supported by the force within which they work.
This produces a huge challenge for officers who are trying to develop themselves through learning. We will also see, very soon, at a national level, a large number of new officers coming in through the new entry routes. Those officers on the apprenticeship scheme will need dedicated study time both for classroom learning and assessments plus some degree entrants will need time for the completion of a diploma to upskill them in the College of Policing curriculum.
Importantly, this is all happening during a time when officers are struggling, resources are lower than ever and demand is high. Additionally, the credibility and value placed on 'new' knowledge remains an issue (Williams et al, 2019; Hallenburg and Cockcroft, 2017) and this needs to be acknowledged.
Discussions on this will come from: Dr Katja Hallenburg, Dr Tom Cockcroft, Andrew Tatnell
Wellbeing and reflective practice
Much of this discussion focuses on new officers, a recent @wecops debate was focused on CPD. Part of that involved a survey for officers to complete prior to the chat. Whilst, 34% of respondents, ticked the option 'what is CPD' when asked what they wanted from development, 22% of officers said they wanted more time for reflective work as part of the CPD.  
This concept is key for professionalism and it is worth noting that officers recognise it as a form of CPD. It allows for and encourages self learning, different styles of decision making, reviewing of behaviour and practice. Part of the conference will address this area with discussions about the role of reflective practice in officer wellbeing which very clearly enhances impacts on the professional service delivered to the public. There is a vast drive currently to openly discuss issues of police stress and reflection / debriefing is core to this area of police work. The current policing landscape is not enabling this and hearing from experts about how this might change or be allowed for by leaders is central to this conference.
Discussion from: Dr Ian Hesketh, Sarah-Jane Lennie, Professor Jonathon Crego, Dr Elaine Brown
Risk aversion and enabling leaders
The reactive nature of police work is a current frustration for many officers. It limits the chance of the development issues raised previously but can have further impact on other core aims of the professionalisation agenda. Management style performance structures can be reinforced when police demand and expectations of service are high. Tangible statistics are simple to provide and this can lead to officers maintaining these figures and following command and control structures and approaches.
The professionalisation agenda seeks to normalise difference in thought, trust and more participatory styles of leadership which are heralded as positive by research. Organisational justice, gender and leadership and discussions on ethical behaviour are central to this debate and we have both academics and practitioners who will discuss this area at the conference.
Outputs from some research are also perceived by some as limiting officers' behaviour and new ideas. Indeed, purist notions of hotspot policing and prescriptive toolkits can be viewed as inhibiting rather than enabling problem solving approaches and new practice. This controversial area will be debated. In the context of austerity, the code of ethics and money saving it is central to this issue.
Discussions from: Professor Kevin Morell, Professor Ben Bradford, Dr Emma Williams, Dr Dominic Wood, Professor Jenny Fleming, Professor Marisa Silvestri, Dr Richie Adams, Cate Moore, Professor Louise Westmarland, Detective Chief Superintendent Colin Paine
Fairness
New notions of professionalism are addressed in this conference. Again often linked to discussions of new knowledge and different ideas, the direct entry scheme and PoliceNow programme will feature here. Williams and Norman (2017) found that current officers sensed unfairness about the integration of direct entry inspectors for example. They voiced that internal talent pools of currently serving officers were not able to access the same opportunities and that the resilience they were providing for the new style entrants was left unrecognised by supervisors.
The lack of 'time in the job' to learn policing is central to this debate. Recent research by Dr Sarah Charman clearly highlighted the critical role of local sergeants and 'peer tutors' in an officers' learning journey. Some emerging issues from recent research by Dr Emma Williams will outline the sergeant supervisors' perceptions of their ability to effective supervise new graduate entrants and the new skills they are bringing into the service.
Discussions from Dr Sarah Charman, Superintendent Paul Clements and the CEO of PoliceNow Dave Spencer will raise these controversial areas. Additionally, PoliceNow officers will talk through their own experiences in this new landscape.
Other important issues about the role of universities and academics in this new world will also be discussed by Dr Richard Heslop and will form a thread throughout the conference. Therefore, if you are interested in the challenges to professionalism, officers' development and leading through this difficult time please come along to our great conference at Canterbury Christ Church University.