For those who have not been placed under special measures, the challenges remain consistent – contact centres, victim care, stop and search practices and an ability to deal with the underlying challenge of trust and confidence in how policing prevents and detects crime. 
"
Alongside every aspect of every challenge sits a desire and a drive for more data – more ways to measure the service's progress.
However, the challenge of measuring performance in these areas is equally as complex when it comes to more 'non-operational' efficiency to maintain a robust and sustainable workforce responding to the ever-changing needs of the public, its own employees.  The Policing Vision 2025 rightly sets out clear ambitions for many of these areas.
Alongside every aspect of every challenge sits a desire and a drive for more data – more ways to measure the service's progress. Up and down the UK, we have seen a plethora of new tools, roles, departments, research, committees and working groups established to focus in on specific issues of the day from macro to the micro. 
In the 2019 Police Foundation report – Data-Driven Policing and Public Value – the recommendations set out paint a clear ambition that not many in policing can argue with. The removal of 'closed technology' to enable the joining up of systems and data across Force boundaries, deliberate democracy initiatives to explore the complexity of data-driven policing, alongside a coordinated approach to data accuracy, are just a few that would contribute to achieving an 'analytics for all' culture.  
"
We often discuss the uniqueness of policing – something we should never underestimate – however, over 65% of businesses report that decisions today are more complex than they were two years ago. Their critical challenges are overlaid with those faced within the police service and the realisation is always the same – the world has changed and we have to change with it.
When we look at traditional methods of data analytics in policing, there can still be missing pieces and these remain consistent. An ability for chief officers and PCC's to tell their own data story to better illustrate aspects such as:
The journey taken between points in time
The actionable insights gained that equip the organisation to have clear decisions in a complex environment.
We often discuss the uniqueness of policing – something we should never underestimate – however, over 65% of businesses report that decisions today are more complex than they were two years ago. Their critical challenges are overlaid with those faced within the police service and the realisation is always the same – the world has changed and we have to change with it. 
All organisations need to invest in things that will drive immediate value and reduce risk. This elevates productivity, efficiency, and automation as new priorities for leaders. At Salesforce, we believe that every organisation has the opportunity, and the responsibility, to make trust their highest value and to become a trusted enterprise.  However, this isn't easy. There is a gap in the ability to use data to drive decisions. Large organisations continue to struggle with data volume and the velocity of this data. In 2020, Deloitte's Analytics Advantage survey reported that only 7% of organisations use data-driven triggers. The struggle to use analytics in daily decision-making remains a key obstacle in today's world. 
The Data Gap
IDC research shows that 83% of CEOs say they want to become data-driven, yet only 30% of employees say their organisation actually is. One of the reasons that this data gap exists is that they have more sources and systems than ever. Teams often lack the data skills needed to get value out of the data they do have, due to a lack of a true data culture. And they also don't have the right tools to get insights, faster. Tableau, the analytics platform for Salesforce, has been working for over 15 years in this space across the world and we've learned what works in building a data culture. 
Salesforce's Analytics Portfolio empowers everyone in your organisation to make better decisions, increasing trust and accelerating growth and success with data. Tableau has been named a Leader in the Gartner Magic Quadrant for Analytics & Business Intelligence Platforms for the 10th consecutive year. Since joining the Salesforce family in 2019, we've accelerated even further, continuing to broaden and deepen the Tableau platform to transform how people work with data:
Elevated trusted data at scale with virtual connections, centralised row-level security, and new enterprise capabilities
Increased our AI and augmentation capabilities with Einstein Discovery for Tableau, and re-imagined Ask Data and Explain Data for all users
Launched the Tableau Exchange, including over 100 new Accelerators with pre-built content for a variety of use cases and industries
Accelerated the transition to the web and to the cloud with more people now adopting Tableau for the first time in the cloud rather than a desktop
Expanded integrations to help everyone see, understand and act on data
Performance in Policing – More than just management
The power of sharing data with the public is the most powerful tool we possess to help bridge the gap between equality and misinformation, however, understanding the path to creating more equity in law enforcement is not easy. As many have pointed out, data on policing is often difficult to find and work with. At the same time, good, comprehensive data on policing can play a pivotal role in illuminating where change is most needed, and the solutions that could have the greatest positive impact. In the US, as part of our Racial Equality and Justice Taskforce's policy priorities, Salesforce supports accurate and transparent data collection as part of our police and criminal justice reform work.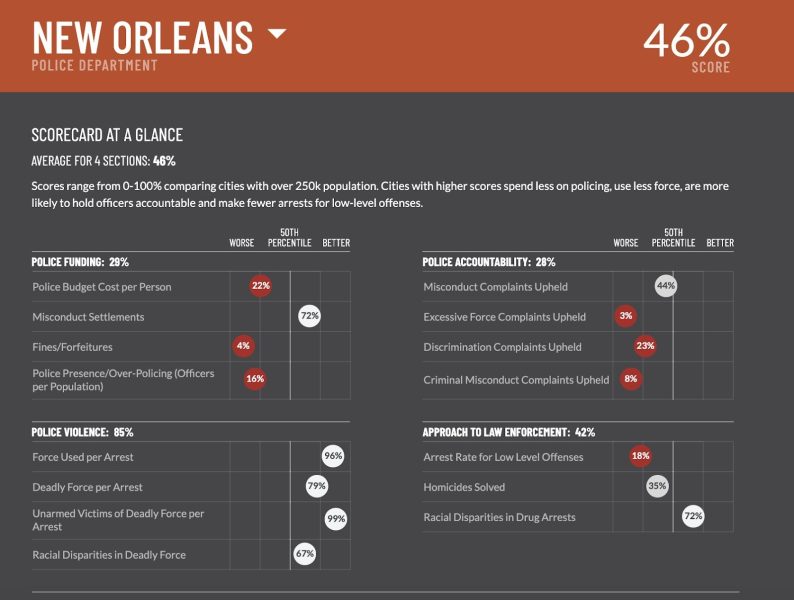 Police Scorecard is the first-ever platform of its kind. Because data on policing and outcomes in the US is often incomplete and varies in format from department to department, compiling it into one dataset was a complicated task—but the result is an indispensable resource designed to empower citizens, advocates, and law enforcement agencies themselves to analyse their data and identify avenues for progress. Utilising over 13 million cells of data from 13,147 police departments and 2,878 sheriff's departments, Tableau provides in-depth metrics on everything from police funding, to use of force, to racial bias in enforcement.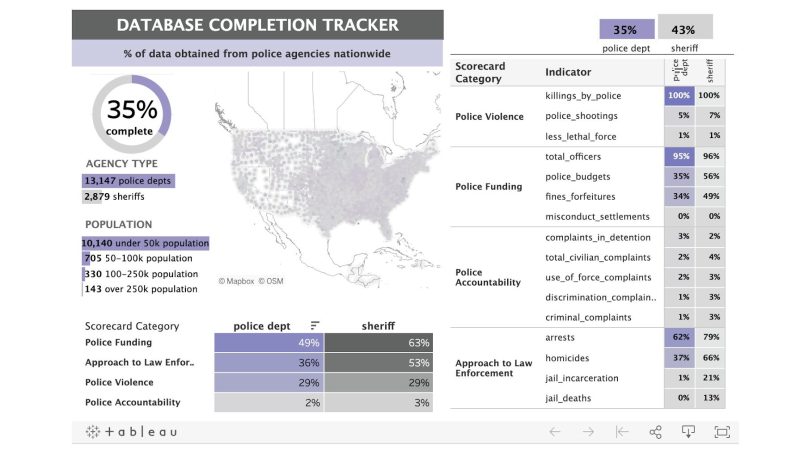 Like policing, we've learned and grown tremendously over the years, but our mission hasn't changed since day one. The key word is still people. Whether it's drag and drop, asking questions with natural language, or running a statistical model with a click, people love Tableau because it puts the user first, encouraging creativity and confidence when working with data. We think about connecting every job to be done with the power of data. Every role and every challenge has an answer – and each can be tackled faster, smarter, and more efficiently with trusted data. By taking a holistic approach to analytics, organisations can see the impact across every team. 
We envision a world in which analytics is everywhere. This cannot happen without Tableau directly in your workflow, so we're building our integrations to help you go from insight to act fast. And beyond these integrations, we're helping you extend the power of Tableau into your own applications so every app is an analytical app. 
We're building deeper augmented experiences where artificial intelligence (AI) is seamlessly woven into your data interactions, driving better decisions, and more meaningful outcomes. We know that not everyone is a data scientist or advanced analyst and therefore, needs assistance to fully get the benefit of their data.
Much more than traditional Business Intelligence
Not all Business Intelligence platforms share similar capabilities and functionalities. The most common reason that customers choose Tableau is the platform's flexibility. To deploy analytics broadly across your organisation, you need to have the confidence that your choice meets you where you are today and that it will continue to work when your technology decisions evolve in the future. That's why Tableau is designed to fit, rather than dictate your data infrastructure, data ecosystem, and business workflows so that you can leverage your existing technology investments and expertise.
This includes the ability to:
Deploy anywhere – Whether that's in a public cloud environment (AWS, GCP or Azure), On-Premise, or choosing our SaaS offering (Tableau Online), you can ensure that Tableau will grow alongside your organisation as your data strategy evolves. Tableau also provides the capability to be deployed on any operating system, whether you're operating Windows or Linux.
Enhance the organisational analytical experience – Any technology investment is only as successful as the people who are using it. And it's that analytics experience that ensures that people within the organisation are able to effectively use data to back their day-to-day decision making.
Discover deeper Insights – Tableau is most powerful for exploration. In addition to answering the known questions, it helps discover trends, uncover outliers, and ultimately reveal new questions you hadn't thought of. Think "Is there a relationship between crime rates and the weather?". New questions are what lead to innovation, new ways to detect crime, and ultimately increased public safety. While other analytical platforms are primarily focused towards producing an end result (the report or dashboard), Tableau does that but also facilitates discovery. 
Give people choice – They can leverage HYPER, Tableau's proprietary high-performance in-memory data engine technology to offload queries and improve performance. Or, they have the option to query data live where it exists to leverage the power of their database to query data in real time without a different user experience, missing functionality, or limitations.
The Tableau platform is a fully integrated, scalable, end-to-end platform to help you effectively manage self-service analytics at scale.
Dedicated team of experts – This includes an entire account team that is there to make sure that you are successful – from your Account Executive, Solution Engineer, and Customer Success Manager. We have best practices compiled from thousands of other successful deployments to ensure your organisation, and its people are successful.
User community – Tableau's community transforms how our customers get support. With over 195,000 questions & ideas shared on our user forums, 5M data visualisations on Tableau Public, and 510 in-person & virtual User Groups, there are unlimited resources for learning and inspiration. Plus, with over 2M students and instructors enabled, Tableau is helping to address the data skills gap.
From performance or workforce management, to driving deeper insights and decisions in operational policing, Tableau are currently working across many areas to empower users across entire organisations. As the market-leading choice for modern business intelligence, our analytics platform makes it easier for people to explore and manage data, and faster to discover and share insights that can change organisations and the world.
For further information visit salesforce.com/uk/publicsector and get in touch with us