What role should the police play in the wake of complex past harms, ranging from child sexual abuse within institutions, to the investigation into Stephen Lawrence's murder, the Windrush Scandal, the Hillsborough Stadium disaster, The Troubles in Northern Ireland and the contaminated blood products scandal?
"
The entire conference is held under the Chatham House Rule to enable frank and productive conversations, and the programme is designed to encourage candid conversation and active participation.
The Cumberland Lodge Police Conference has been a key date in the UK policing calendar for the last 40 years and this summer it goes online, with representatives from all levels of the police and criminal justice sector meeting for two days to discuss how to respond to major past harms and injustices.
Police representatives will be joined by historians, criminal justice professionals, victim representatives, academics and research students, media correspondents, charity leaders and civil servants, each bringing their own perspectives.
The entire conference is held under the Chatham House Rule to enable frank and productive conversations, and the programme is designed to encourage candid conversation and active participation. Participants of all ages, perspectives and levels of seniority are encouraged to exchange views and share ideas openly and on an equal footing. All registered participants will receive a conference pack before the event, with our conference handbook and a comprehensive, independent briefing document written by Martina Feilzer, Professor of Criminology and Criminal Justice at Bangor University.
Towards Justice: Law Enforcement & Reconciliation takes place on Zoom, on 17-18 June 2021. Registrations are open until the last week of May but places are filling up fast, so early expressions of interest are advised.
Register your interest in taking part by contacting Emily Gow, Programme Officer at Cumberland Lodge, at [email protected]
Guest speakers
This year's line-up of distinguished guest speakers includes:
Assistant Commissioner Robert Beckley (overall command of Operation Resolve, the criminal investigation into the Hillsborough disaster)
Richard Fewkes (National Co-ordinator of Operation Hydrant)
Sir George Hamilton (former head of the Police Service of Northern Ireland)
Susan Hemming (Director of Legal Services at the Crown Prosecution Service)
Michael Lockwood (Director General of the Independent Office for Police Conduct).
A full list of speakers can be found here.
Where does policing fit in?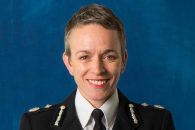 Olivia Pinkney, Chief Constable of Hampshire Constabulary and NPCC Lead for Local Policing: 'Never has there been a more important time to reflect on past harms – how society can best acknowledge them for what they are, and then build a more resilient society for the future.
'So where does policing fit in?  We have seen these harms over the decades, in health, sport, justice, faith, government institutions and more, in the UK and beyond. And, sometimes, in policing itself, which brings added mistrust to investigations.
'Does police involvement help or hinder that resilience building, whether or not there is ultimately a criminal justice process to address the harm caused?'
Interactive programme
This is far from a lecture-style conference. The two-day programme includes plenty of opportunity for informal networking with guest speakers and fellow delegates, proposing ideas (anonymously or in person) and exchanging views and perspectives.
Session topics include:
Putting the past right
The experience of Northern Ireland
Justice, accountability and blame
Victims' perspectives
The challenges of investigation
The state and the media
There are opportunities for Q&A, group discussion and breakout-room sessions throughout and for some of the small-group discussion sessions, delegates will be joined by people who have been invited to share their lived experiences of being a victim of past harm.
Register your interest in taking part by contacting Emily Gow, Programme Officer at Cumberland Lodge, at [email protected]
Setting the scene
This year's conference was launched in January with a series of three preparatory webinars to set the scene for the discussions in June. Recordings and accompanying briefing documents and blog posts are available on the Cumberland Lodge website.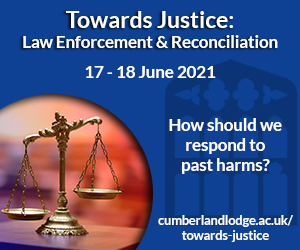 Guest contributors to these webinars included:
Dame Vera Baird (Victims' Commissioner for England and Wales)
Jonathan Powell (former Chief British Negotiator on Northern Ireland)
Chief Constable Simon Bailey (National Police Chiefs' Council lead for child protection).
The webinar topics were: Responses to Past Harms, Insights into Truth and Reconciliation (with a focus on lessons from Northern Ireland), and Victim Perspectives on Past Injustices.
Key questions
The June conference programme addresses the following questions, from a policing and criminal justice perspective:
How should we respond to moral shifts in society, which turn actions of the past that were once considered legitimate or ordinary into crimes, or acts of discrimination or oppression?
How do we respond to new social and ethical standards for judging the past?
What are we trying to achieve with investigations of past harm – and how can other, non-police actors be involved in the process of creating accountability, without focusing on blame?
Beyond police investigations, how can prominent public inquiries or independent panels contribute to addressing past wrongs?
What can public institutions learn from victim experience, and what should the role of victims and their testimonies be in investigations into past injustices?
How can we ensure both high levels of independent scrutiny and accessible communication in the relationship between the state and the media?
Future policy and practice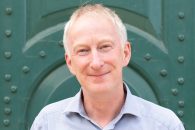 Canon Dr Edmund Newell, Chief Executive of Cumberland Lodge: 'This conference offers a chance to step back and spend time reflecting on how we address past harms and injustices, as a society.
'What can be gleaned from victim perspectives and previous attempts to bring about lasting reconciliation, and how can that insight inform from the policing and criminal justice response? How can we support the pursuit of wider social justice and avoid repeating the mistakes of the past?'
All conference participants will have the opportunity to be listed as contributors to the summary report to be published later this year and launched in Westminster after independent review.
Written by Cumberland Lodge freelance Research Associate, Professor Martina Feilzer, this report will summarise key themes of discussion and cross-sector recommendations that emerge from the conference, to inform future policy and practice.
Be part of the conversation
Register your interest in taking part in Towards Justice: Law Enforcement & Reconciliation, by contacting Emily Gow, Programme Officer at Cumberland Lodge, at [email protected]
Resources relating to this conference will be shared on the Cumberland Lodge website, including the briefing document, final report, guest blog posts and podcasts.
The College of Policing supports the Cumberland Lodge Police Conference by selecting officers from the Fast-track and High Potential Development Scheme (HPDS) to participate.

Policing Insight is pleased to be the official media partner.