Policing is under pressure to become trusted and ethical, yet digital savvy. That's a tall order at a time like this: Criminal investigations have become massively more complex, and the digital assets involved in investigations are piling up, testing the talents of police forces that are still working to establish adequate digital labs.
"
Criminal investigations are increasingly unmanageable given the volume, variety, and velocity of digital assets coming into agencies

IDC Policing 2025: Envisioning a New Framework for Investigations Report
But with every challenge to law enforcement comes an opportunity for improving digital policing. With a digital framework for improvement, law enforcement agencies can maximize these opportunities, successfully managing large volumes of data while harnessing Digital Intelligence (DI), the data that is extracted from digital sources and data types—smartphones, computers, and the Cloud—and the process by which agencies access, manage, and leverage data to more efficiently run their operations, to solve more crimes.
The digital trends upending policing
Before considering the digital framework, it's important to understand the multiple challenges standing in the way of effective digital investigations. The first is the "digital deluge," as the marketing research company IDC refers to the problem in its new report, Policing 2025: Envisioning a New Framework for Investigations.
"Criminal investigations are increasingly unmanageable given the volume, variety, and velocity of digital assets coming into agencies," reports IDC. "This includes net new data sources like large, heterogenous data sets generated by communications service providers, cloud service providers, laptops, and smartphones, as well as the skyrocketing volume of video and photographic evidence."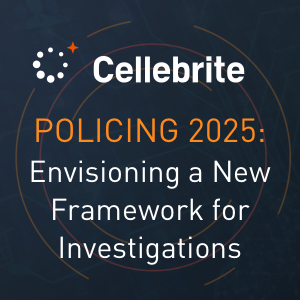 No police department would disagree, of course, that digital devices can be both a blessing and a curse. And it's not just devices piling up in the digital lab; it's the "middle layer" of video sources, sensors, and biometrics, which require DI platforms in order to organize data and make sense of it all. That's a lot of technology to keep track of, not to mention a significant amount of training that's needed to understand it all.
When devices carry data that's crucial to investigations, law enforcement professionals have to grapple with a related problem: pulling that data out of siloed, hard-to-access sources. Without fast and complete access to data – plus the ability to understand it – law enforcement agencies can't gain the advantage of speed when working with cases involving threats to life. They might not have the ability to see patterns in data that help solve crimes.
Another challenge: the "techlash" against surveillance. Citizens have weighed in repeatedly with their concerns about tools like facial recognition and artificial intelligence as reasons why trust in policing has suffered. The public in general does not understand this so-called "black-box" technology, but they are fearful of its unintended negative consequences.
A Framework For Adopting Digital Policing Technologies
So much for the serious challenges: How should policing reinvent itself over the next five years so agencies not only put digital data to best use, but they instill greater trust from the public when doing so? If law enforcement agencies invest in technology to create digital transformation, they need to measure ROI against it, just as businesses do. They also need to deliver on the promise of working in an ethical and trusted fashion.
As the IDC report explains, policing technology must be:
Fair from an algorithmic standpoint, and based on unbiased data
Explainable to many stakeholders
Robust so that it's safe, secure, private, with a human in the loop
Traceable so users understand the provenance of training data sets and metadata
Transparent in terms of reporting, communication of results, and auditability
The story of England's Leicestershire Police department and its digital transformation offers a clear example of the value of systematic change in managing digital evidence. In 2015, the department developed a comprehensive program to optimize digital workflows so that digital evidence could be successfully managed and leveraged to help solve cases.
At the end of the project, which relied on solutions from Cellebrite to improve digital workflows, the department created lasting impact on the force's ability to solve crimes – including a murder case involving online grooming of a teenager.
"
We realized that we were doing very good work on the force and in the field, but detectives didn't know what other detectives were doing. We didn't know who was using what, and how. We had an awful lot of duplication

DS Charles Edwards, Leicestershire Police
Before the department underwent its digital transformation, accessing, managing, and analyzing Digital Intelligence was a siloed process with few shared efficiencies. The department's 1,900 officers struggled to find insights within data, or use it as a guide for solving cases. There was a two-and-a-half-month backlog in analyzing data from devices and returning them to their owners, which hurt the department's efforts to build community trust in its policing capabilities.
"We had to turn to victims and their families and say, we're working to safeguard you, but we won't know what's happened to your family member for two months," explains Detective Sergeant Charles Edwards. At the time, Leicestershire police had a Digital Forensics Unit, but the lack of comprehensive workflows didn't allow technology and people resources to be used effectively to reduce the evidence backlog and solve crimes.
"We realized that we were doing very good work on the force and in the field, but detectives didn't know what other detectives were doing," Edwards explains. "We didn't know who was using what, and how. We had an awful lot of duplication."
To bring DI to every officer, and eliminate the siloes that created duplicate efforts, Edwards oversaw the establishment of the Leicestershire police force's 70-person Digital Media Investigator Team. The idea was to centralize the process of accessing, managing, and analyzing digital data, and also bring various departments – such as the force's Digital Forensics Unit and Cybercrime Unit – under one umbrella, including digital forensics labs.
At the heart of the Digital Media Investigator Team is a well-thought-out process for ensuring device data is properly analyzed. Every major crime investigation in Leicestershire is assigned two digital media investigators. When a crime is committed and a device is involved, police teams contact the Investigator Team to get digital media investigators assigned.
Every case also has a digital strategy that's approved by the team. The digital strategy is an essential first step in defining the workflow for investigations: It's the blueprint for which approaches will be used and how Cellebrite solutions will be applied.
Digital intelligence rapidly solves the case of a missing girl
The department's tighter workflows contributed to finding the man who killed 15-year-old Kayleigh Haywood, in a case that made national headlines. By extracting and analyzing data from the girl's iPad after she went missing from her Measham, Leicestershire hometown, detectives discovered Haywood had been exchanging messages with a young man about drinking and spending the night together.
While the suspect insisted he hadn't met with Haywood when questioned, detectives found GPS data on his iPhone placing him in a local park the night of the girl's disappearance – where detectives found the girl's iPhone and clothing.
That iPhone's data – once again analyzed by detectives – uncovered photos of another man, who also insisted he had nothing to do with Haywood's disappearance. Analysis of his iPhone revealed enough call and location data to press the suspect for details of his involvement in the crime; he eventually confessed to sexually assaulting and killing the girl, and led police to her body. The man received a life sentence for Haywood's murder.
Leicestershire's streamlined workflows dramatically shortened the timeframe for assessing digital evidence. The two-and-a-half-month lag time for accessing and analyzing digital data shrunk to just a day or two, speeding resolution of cases and also improving community relations with members of the public whose devices become swept up in investigations.
Hopefully, by 2025, stories of digital transformation like that of the Leicestershire Police will be commonplace and not rare. With skilled digital policing, law enforcement professionals can learn and adapt to the rapidly changing digital world, while also synthesizing information at scale to investigate and solve more crimes faster.
To learn more about how digital technology is transforming law enforcement agencies worldwide through case studies, white papers and other resources, visit Cellebrite.com.
About the Author: Andrew Martin has served 20 years in the public sector across the Her Majesty's Armed Forces and within Lancashire Constabulary as a frontline officer. He moved into the area of Counter Terrorism Borders Policing and became heavily involved in digital forensics in the Northwest region, gaining qualifications and hands-on expertise in mobile acquisition and review on-scene using field-based capabilities. Andy now works with customers to better understand their needs, requirements, and pain points, providing assistance and guidance to align current and future capability needs.