Never has policing faced such a period of enormous change and challenge. Long before the coronavirus pandemic the tasks facing policing had become more diverse and complex. The police are expected not just to manage the traditional problems of public order and local acquisitive crime, but also crimes taking place on the internet and within the privacy of people's homes.
"
We will hear from some of the leading police thinkers and practitioners on issues ranging from workforce wellbeing to improving diversity.
As austerity has caused other public services to reduce the support available for vulnerable people, policing has been left responding to increased levels of acute crisis from mental health incidents to missing person reports. On top of all this, police organisations across the world have now been asked to help manage a public health crisis and to enforce unprecedented restrictions on everyday life, all while retaining public confidence.
The Police Foundation's 2021 annual conference will explore what kind of skills and capabilities police officers and staff will require in the years ahead. The conference will take place via Zoom across 23rd to 25th February, with a series of sessions addressing the major questions that need to be answered if we are to equip the police workforce with the capabilities it will require as we approach the middle of the twenty first century.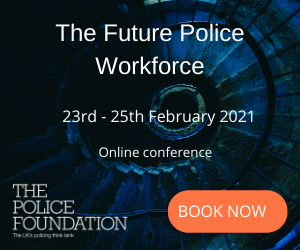 We will hear from some of the leading police thinkers and practitioners on issues ranging from workforce wellbeing to improving diversity.  On the first day conference delegates will hear from Professor Sir Cary Cooper and Chief Constable Andy Rhodes on what needs to be done to ensure the wellbeing of the police workforce is improved, a vital issue particularly at the present time when we are expecting so much of those on the frontline.
We will then hear from Andy Lancaster of the Chartered Institute of Professional Development (CIPD) and Jo Noakes from the UK's College of Policing, among others, on how police learning and development should be improved to equip officers and staff with the skills and knowledge they require, not just initially but throughout their careers.
On the second day Chief Constable Martin Hewitt, the Chair of the National Police Chiefs' Council will set out the progress to date with the current police recruitment drive in England and Wales (Operation Uplift) and the CEO of Police Now David Spencer will describe the impact of their work on graduate recruitment.  We will also hear from some of the world's leading experts on evidence-based policing, including Professor Lawrence Sherman of Cambridge University, Professor Gloria Laycock OBE of UCL and Chief Inspector Roger Pegram of the UK Society of Evidence Based Policing.  They will discuss what needs to be done to embed evidence-based thinking and practice in everyday police work.
On our final day we will look to the future and discuss what skills and knowledge the police officers of the future will require, with contributions from Police Superintendents' Association President Paul Griffiths and leading thinker Tom Gash.  Our final session will address what we can be done to ensure the police workforce is representative of the communities it serves, with contributions from former Superintendent and author Leroy Logan MBE and Deputy Mayor of London Sophie Linden. 
Delegates will be able to ask questions and sent copies of the presentations. There are flexible pricing options for this online conference, with tickets available for the whole conference and for single days. The entire content will be available afterwards for those who cannot attend live. 
The discussion that takes place at this global conference will provide an important input into the Strategic Review of Policing in England and Wales, chaired by Sir Michael Barber and hosted by the Police Foundation.
Book your place for The Future Police Workforce: The Police Foundation's Annual Conference 2021 here