We will be demonstrating our integration (powered by MuleSoft) between our Citizen Connect proposition with the Sopra Steria Storm CAD and how the interoperability goal between data silos is now a reality. This enables information about citizens to be viewed centrally and speeds up interactions as it shifts the focus from incident focused engagements to citizen-focused engagements whilst importantly, helping spot vulnerable callers and improving outcomes.
In addition, we will demonstrate our social media solution, in partnership with Sprinklr, which will provide insight on how social media engagements can be ingested and managed centrally either via a digital desk or as part of Contact Management. This approach removes another data silo and ensures that any conversations or posts are visible and actionable from a central console.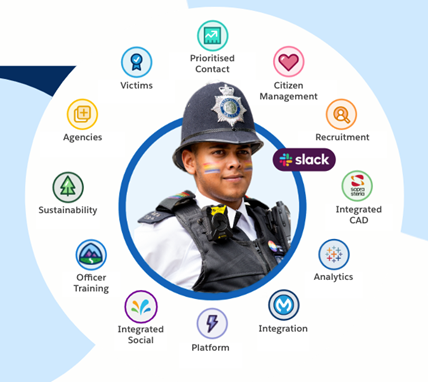 The additional challenges of victim care, recruitment, investigations, sustainability, asset management and inter-agency collaboration are all topics we would like to speak to you about so we can support any transformation requirement with an evergreen, scalable platform that is tailored to your requirements.
If you are not able to make the summit in person, please get in touch with us and we will arrange some time to meet at your convenience. We look forward to a successful summit and welcoming you to our stand.