It's that time of year when many across the country take a break. But not all in policing are able to do so, of course. So let me start this article by acknowledging that many of our readers will be working over Christmas and New Year. If you are – then THANK YOU for looking after our communities as we others enjoy the holiday. And if you're a police officer, staff member or volunteer fortunately able to take some time off, thank you too for your service throughout the rest of the year.
Our Christmas and New Year publishing…
Whilst our Policing Insight team will indeed be taking a bit of a break, we will publish occasional articles over the coming two weeks – for example, with a look at the policing-oriented New Year's Honours. We will also be maintaining our very popular Media Monitor service throughout. So, do feel free to check back in over the Christmas and New Year period: we'll make sure to have fresh material here to welcome you!
We will also have a short break for our newsletter: the first in the New Year will be mailed on Wednesday, 2nd January, 2019.
A glance back at 2018…
Here's what I wrote just before Christmas last year, looking ahead to our plans for 2018…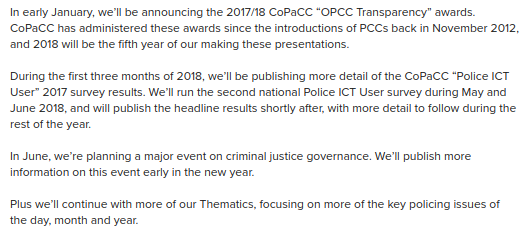 I'm delighted (and more than a little relieved!) to say that all were successfully delivered!
Four of our Policing Insight team – Tina Orr Munro, Carina O'Reilly, Ian Wiggett (plus myself) – have taken a look back at their favourite Policing Insight articles of 2018 – we've had many brilliant contributors over the last twelve months. Many thanks from me, to each and every one of them. 
And, during 2018, our subscriber numbers have risen exponentially. There are now well over ONE HUNDRED THOUSAND UK police officers and staff with subscriber access via force wide subscriptions, and over TWELVE THOUSAND OVERSEAS police officers and staff. Plus many academic institutions, policing suppliers, third sector organisations, government bodies and private individuals. My thanks also to each of our readers and subscribers for their continued support. 
So, what challenges are we setting for ourselves for next year?…
Looking forward to 2019…
There's much to look forward to in the year to come.
Whilst some of the detail of CoPaCC and Policing Insight's plans for 2019 needs to remain 'under wraps' for the time being, there are one or two gems it's possible to mention here. 
Early in 2019, we'll be announcing the recipients of the 2018/19 CoPaCC "OPCC Transparency" Quality Marks. CoPaCC has administered these awards since the introductions of PCCs back in November 2012, and 2019 will therefore be the sixth year of our making these presentations.
During the first three months of 2019, we'll be publishing more detail of the CoPaCC "Police ICT User" 2018 survey results. We'll run the third national Police ICT User survey during May and June 2019, and will publish the headline results shortly after, with more detail to follow during the rest of the year.
In July, we'll be running the second annual Police Governance Summit. The first Summit was a great success, with our venue filled to capacity. We'll be opening the ticket office for this Summit early in 2019.
We'll continue with more of our Thematics, as well as of course our weekly supply of thought-provoking Policing Insight articles, focusing on more of the key policing issues of the day, month and year.
And – last, but by no means least – we'll have one further MAJOR policing initiative to announce next year. We're planning to make the public announcement in around Spring 2019. There will then be related activity throughout the rest of the year, leading to a significant new policing event in November 2019.
My especial thanks to…
Finally, I'd like to thank again two particular groups of people.
Firstly, our fantastic Policing Insight and CoPaCC team. Some I've mentioned above, whilst others have been name-checked in our articles and Thematic reports during the course of the year. A particular special mention here to Ian Barrett and Richard Place, two key team members who play an essential (and largely invisible) role behind the scenes. 
And secondly, my thanks to you. Our readers. We'd be nothing without your interest, feedback and support. Thank you for all your encouragement during 2018. We're aiming to provide even more great policing insight for you in the coming year…