Business needs
Access multiple siloed systems

Work offline

Requirement for officers to be visible in their communities

Deliver transformation of working practices and introduce efficiencies

Meet frontline requirements to ensure adoption  
Solution
PRONTO digital policing platform
Impact
Independently verified efficiency savings

Universally praised by police staff as the best technical solution ever introduced

Situational awareness across multiple systems through federated searching

Silent CAD dispatch and resolution

Reuse of data in workflows across siloed national and local systems, all linked in electronic pocketbook

Mandated fields and intuitive workflows, presenting only relevant fields and ensuring 100% accuracy and content

Upto 2 hours per shift efficiency savings

Significant reduction in internal demand to the control room, resulting in improved call response times

Millions of pounds in fuel savings due to reduction in travel nationally

Millions of additional officer visibility hours delivered nationally
For over 30 years policing has followed a model of 'siloed' digital solutions, with frontline officers often reliant on a variety of products from multiple vendors.
Before this, little had changed in policing for over two centuries apart from the introduction of the personal radio in the 1960s. Officers were arguably more mobile in the days of the Bow Street Runners and Dixon of Dock Green than many are today, because they carried everything they needed with them. The modern officer, by contrast, spends over two hours a day behind a desk out of sight of the public.
A critical question today is not just whether an officer can ingest or submit information in the field, but how they can do so without duplication. If you are not reusing data then you are increasing effort, demoralising staff and potentially creating data integrity issues by introducing human errors.
To address this, Motorola Solutions' Pronto digital policing platform streamlines data to flow between systems. Cutting the umbilical cord between officer and station, Pronto transforms workflow efficiency via a single user interface that's accessible anywhere – with or without connectivity.
In a mobile policing context 'business as usual' means 'continuous development'. Now used by over 65,000 UK police officers in 24 forces, the use of Pronto is constantly being driven in innovative new directions, always driven by close collaboration between end users and strategic portfolio leads.
West Yorkshire Police go digital with Pronto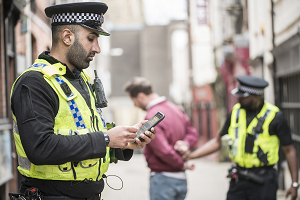 West Yorkshire Police serves approximately 2.2 million people living in the five metropolitan districts of Bradford, Calderdale, Kirklees, Leeds and Wakefield. The physical area of some 2000 sq km (780 sq miles) contains the West Yorkshire conurbation and a network of motorway and trunk roads, allowing easy access to and from other population centres.
The Force area is very varied combining busy cities and towns with quiet villages and picturesque rural locations. People are equally varied and represent a diverse range of ethnic cultural and economic backgrounds.
West Yorkshire first introduced Pronto in 2014. Prior to this, however, they have always understood the need to keep a support team made up of operational officers to push the boundaries for the benefit of their staff and ultimately the public.
"When West Yorkshire Police made the decision to go on a journey with Pronto, it was driven out of the need to transform not only the experience of frontline officers, but the back office too" says Chief Inspector Dan Tillett.
"
Reducing the burden of duplication – not just between siloed systems, but workflows within systems was crucial. We needed one user interface to manage our Record Management System and Command and Control System in the field. Pronto has now grown and provides much more"
Chief Inspector Dan Tillett, West Yorkshire Police
"Reducing the burden of duplication – not just between siloed systems, but workflows within systems was crucial. We needed one user interface to manage our Record Management System and Command and Control System in the field. Pronto has now grown and provides much more. In partnership with Motorola Solutions we were pleased to lead the integration to the Biometric Services Gateway, and indeed that work continues as we embark upon work with the Home Office to bring Strategic Facial Matching to life.
"The key to our success is the relationship we have nurtured with Motorola Solutions which allows us to deliver changes quickly, often in response to changes in policy and law or emerging threats or opportunities. This adaptability has ensured that we continue to provide our staff with the most up to date and efficient solutions available to meet policing challenges.
"Over time, Pronto has become a crucial efficiency tool, delivering time savings and process enhancements with each development. Frontline staff now view their handheld device as an essential and valuable part of their kit – they wouldn't be without it."
Digital policing: how does Pronto pass the test?
Test 1 – will it be adopted?
Police officers are excellent problem solvers. They know where they want to get to, and they often excel at making dynamic decisions to get there. If you introduce something new it must be as good as what officers already have… or they will simply find a way to get the same result without it.
In the case of mobility this means lots of bottom drawers full of devices. I remember going into a class of mostly young new recruits who had just received Pronto training. The only question they had for me was, "Why didn't you give us this last week instead of that week we spent on desktop applications?" Should that really surprise us today? And the solution needs to support the way officers access, capture, complete and submit information. Starting life as a 'systems thinking' initiative in Lothian and Borders Police twenty years ago, Pronto was designed by operational PCs and Sergeants from their own personal perspective.
Test 2 – Can officers work offline?
Police officers are expected to operate anywhere, in any conditions and any time. In forces with rural areas this might mean miles of road without connectivity. In urban areas, who has not been in a hospital or flats where there are similar issues? Can you still access the CAD details you were sent before you arrived on scene? Are your officers having to manually save inputted data frequently? You only have to lose it once and you won't do it again. That bottom drawer is filling up!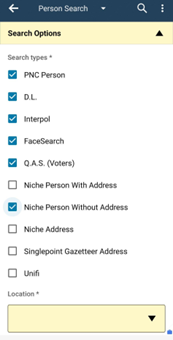 Test 3 – Can all data be reused every time?
Is CAD data always available to your officers? And are they able to reuse POLE data in workflows with the click of a button? When they deal with a suspect, can they conduct federated searches of PNC, RMS, Voters register, biometrics fingerprints and OIFR and reuse the results? Or are they writing everything out four times or more? The risk of duplication (apart from inefficiency and frustration) is that data integrity is compromised.
Test 4 – Do officers have everything they need?
I learned early on as the person responsible for enabling mobility in a force that it is not enough to give them some capability. You have to give them everything they need in a process. If they can only do some of it, they will just come back to do all of it. Might need more bottom drawers!
Test 5 – Are your strategic aims supported?
Making it intuitive with commonly used picklists and learned validation certainly helps adoption, but what about those strategic needs? Are your officers filling out those vital fields needed for the Home Office Annual Data Return ADR on every occasion? Pronto's colour coded mandated fields and in-field validation make it right the first time every time. When policy changes dynamically, can your RMS or CAD give you those changes required in two weeks?
Test 6 – Do you risk additional data integrity issues?
Duplicate addresses and nominals are simply dangerous, important information can be overlooked not to mention the implications for MOPI etc. WYP recently resolved issues in their RMS through Pronto by automated searching, validation and reuse across systems. But not content to stop duplicates, it also detects and sets a course to resolve legacy duplicates.
Test 7 – How easy is training?
One of the issues of having multiple systems is that each requires its own training programme. With Pronto the view across PNC, CAD, RMS etc is the same. When we introduce new workflows, the title is often all officers need to adopt it. These can be as diverse as biometrics, telephone statements or case files. Remember that class of new recruits?
Test 8 – Is it also their pocketbook?
Do all the capabilities in Tests 1 – 7 end up as links in your officers' electronic pocketbooks? Can they update a CAD or RMS record and their PNB with one entry and provide a hyperlink back to it? Can they add sketch plans, signatures and multiple photographs to their entries? Can your SIO's search millions of PNB entries in minutes?
Scenario One
An officer is deployed to a domestic incident and they receive and read full details on their device. Two clicks and they have activated SAT NAV. Upon arrival the following workflows are completed using Pronto: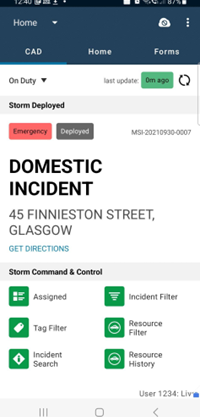 A crime is recorded which includes the following workflows
MO and Stats classification
Victim Code of Practice (VCOPS)
Workload and finalisation tasks
Photographs of injuries
Domestic violence risk assessment
Evidence based investigative checklist
The suspect is subjected to a federated search of multiple systems on Pronto including RMS, PNC, Interpol, Voters register and fingerprints if necessary and the golden nominal is established and reused.
Victim statement signed on the device
BWV linked to the crime and tagged whilst still at scene
Telephone statement obtained from witness who is no longer at the scene, signed via a PRONTO portal with two factor authentication
Update CAD (and by definition PNB) before changing status to available
Scenario Two
Firearms officers stop a vehicle and handcuff the driver to perform a drugs search because of his behaviour. The search is negative, and officers conduct a federated search of the following systems on the details given:
As the DVLA photograph is clearly a different person to the driver the officers suspect no insurance and conduct a biometric fingerprint search linked to PNC. The driver is identified as a disqualified driver. The vehicle is seized and the diver is issued a Traffic Offence Report (TOR).l. Data is reused from the PNC and RMS results to populate the following workflows:
Traffic Offence Report for disqualified driving and no insurance
Stop and Search
Crime report for disqualified driving
Use of Force for the use of handcuffs
Intelligence report
BWV linking on the camera
Updating the CAD created for the stop
Change status to available
The driver walks away and the officers are back on the road within thirty minutes, avoiding a valuable resource being tied up in custody for hours. The driver's details have not been typed once. All actions are recorded in the officers' pocket books, with hyperlinks to the various systems used, their photograph linked to the TOR is available to prove identity in Court. They can dock their cameras on return to the station, knowing that all evidence is correctly marked and linked.
Delivering tangible benefits
With a steady increase in the adoption of Pronto, a number of our customers have invested in their own independent or in-house research to assess the platform's value. The results consistently show three things:
Valued by officers. Pronto is often cited as 'the best IT system ever made available to frontline staff' – social media quickly confirms what officers are saying about it.
Efficiency savings. Forces are reporting operational efficiency gains, both in the frontline and in the back office. This isn't just down to individual workflows, but how apps are orchestrated in an entire end-to-end solution – something that a siloed technology approach cannot deliver.
Improved visibility of officers to the public. Forces equipped with Pronto generally do not have officers in stations during the shift for two hours at a time or incurring overtime at the end of a shift. Officers using Pronto are often the ones going home on time!
In further articles in this series we'll be diving deeper in Pronto functionality and integration with local and national systems. Stay tuned to find out more.
Join us at BAPCO, where we will be showcasing our connected car on stand C1 on the 7 and 8 March.
About the author
Ian Williams joined the Metropolitan Police in 1989 where he served in West and South London for the first 15 years of his service in frontline operational roles. The second half of his career was spent in West Yorkshire Police, specialising in neighbourhood policing, partnerships, public order and firearms command roles. The last four years of his service was spent leading the delivery of mobile policing. Ian now works for Motorola Solutions as a senior consultant in public safety software solutions with a particular focus on situational awareness and mobility.

Motorola Solutions is a global leader in public safety and enterprise security. Our solutions in land mobile radio communications, video security & access control and command center software, bolstered by managed & support services, create the most integrated technology ecosystem built specifically for public safety and enterprise organisations that shares knowledge across your entire operation, enabling powerful collaboration, streamlining workflows, boosting performance and improving outcomes.
Click here to find out more about Pronto.