"
Policing is at a critical juncture. We either improve how we harness digital opportunities from existing and emerging technologies, or risk becoming overwhelmed by the demand they create and lose the chance to enhance and modernise our policing services.

National Policing Digital Strategy 2020 
Policing in the UK is regarded as a benchmark for the rest of the world. So dealing effectively with evolving criminality and cybercrime, along with increasing complex digital evidence, is vital if the UK is to remain a beacon of excellence.
Amazon Web Services (AWS) is supporting UK policing organisations to reduce the impact of crime on the public, free-up front line officers to spend more time preventing and dealing with crime, and make services more accessible to citizens. Its new free eBook gives a framework for digital policing. Get it here – and read on for the initial steps UK organisations are taking.
Across UK policing, innovation is accelerating – but so is the pace of new challenges. Cloud technology helps law enforcement respond to these demands and keep abreast of change. It's currently enabling organisations to make data-driven decisions, prevent crime, protect the vulnerable, offer a seamless citizen experience, and leverage richer intelligence – all while maintaining public trust.
Adopting cloud is therefore an essential step in building the digital policing capabilities needed to respond to the challenges criminality poses. Being in touch with the latest trends will help police leaders build modern services. Let's look at some of those key trends.
How policing in the cloud helps fight crime on the ground
Protecting vulnerable people
The cloud is helping law enforcement respond quickly and accurately to vulnerable people and situations. According to the International Centre for Missing and Exploited Children, over one million children go missing every year from just nine countries. Law enforcement agencies worldwide are using the power of AWS to locate incidents, harness intelligence, and bring families back together.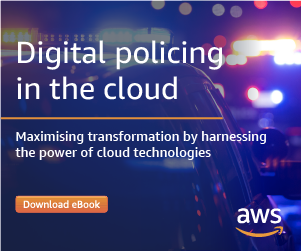 Vulnerable people are benefiting from digital policing in many ways, as outlined in the new eBook, Digital Transformation for UK Policing. These including fighting human trafficking, using chatbots and call centres to communicate more easily with the public, and helping spot threats to at-risk children.
Fighting cybercrime
Ransomware costs governments and organisations billions of pounds every year. Law enforcement agencies are leveraging AWS to help prevent cybercrime, streamline responses, and accelerate recovery.
For example, Europol's AWS-driven anti-ransomware software has supported 12 million visitors since its launch. And Chainalysis' cryptocurrency investigation software helps police understand the real-world entities behind transactions, so they can more easily combat serious organised crime.
Powering major investigations at scale
Cloud technology also helps forces scale up investigations and interrogate data more quickly and accurately.
On the incident response side, crimes can be established in minutes and reported immediately through a mobile or tablet app, which syncs to the AWS Cloud. AWS Cloud can then support case management, helping with the rapid acquisition of digital evidence during the investigation. Machine learning on AWS analyses the data to give actionable insights and intelligence. Object, text and character recognition reduce investigation times – and help officers automatically identify key entries and de-duplicate information.
"
Digital technology allows us to automate our infrastructure, adapt to user needs, and listen to data. In turn, this helps us deliver a better service to citizens.

David Rogers, Head of Architecture and Security, UK Ministry of Justice
AWS also allows agencies to aggregate datasets in a single data lake, which improves search and retrieval and streamlines reporting. Data lakes integrate disparate datasets into a single repository, helping uncover insights in new data and improve the way data is accessed and analysed.
This then leads to more effective collaboration across departments and agencies.
Empowering Government innovation
Government agencies are making full use of cloud technology to support policing. For instance, the Ministry of Justice uses it to enhance service effectiveness and fairness, from seamless evidence sharing to video-enabled court testimonies.
The Accelerated Capability Environment (ACE), part of the Office for Security and Counter Terrorism within the Home Office, helps security and law enforcement services increase their work's impact and pace. ACE uses AWS as the platform for PodDev, a pioneering cloud environment that provides a secure space for industry, academia and Government to collaborate using sensitive data. PodDev can deliver results in weeks and months, rather than the months and years needed with previous programmes. Development environments are quick to set up and only exist as long as required.
"
Our leaders of tomorrow will need to endorse and demonstrate a genuine understanding of how to place digital at the centre of modern policing.

National Digital Policing Strategy 2020
A strong foundation for digital policing
Fully embracing digital transformation is as much about a cultural shift as a change in IT policy. Many senior leaders believe widespread technological progress is only possible when the whole workforce accepts the need for change.
Building the culture, confidence, and skill base is essential to create an environment in which law enforcement professionals can connect strategic goals and outcomes to the technology that helps them succeed in their mission. And with the right skills and technology, there's a clear roadmap for making effective digital policing a reality.
To find out more about how policing organisations are leveraging technology and innovation, get your free copy of the new eBook – Digital transformation for UK policing.