"
BUCSIS professors motivated me to become an independent scholar, focusing on critical thinking and the bigger picture of security and intelligence challenges

International BUCSIS alumnus, Samphallarith Uy
The programme draws on the disciplines of policing, criminology and security studies. There is no doubt that the increasing development and level of sophistication of Transnational Organised Crime and the policy challenges it poses to all states will be right at the centre of top-level careers in strategic security policy in the coming years.
A student who graduates will do so with a broad knowledge and perspective of Organised Crime, its operations and the methods and tactics used to counteract it, and therefore will add considerable value within the sector they choose to enter. The programme aims to explain the key drivers and activities of organised crime in the context of globalisation and the many parallels between the structures and operations of OCGs and big businesses.
Applicants should have either a second-class honours degree (or higher) from a recognised university (UK or international) or a recognised professional qualification with relevant work experience. Students can choose to study on either a full-time or part-time basis, starting in January or September 2021.
Full course details, including module information, can be found on our website: click here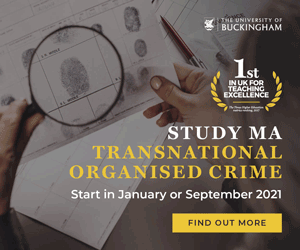 Our PG Cert / MA Transnational Organised Crime is a new addition to our suite of Security and Intelligence programmes delivered by our Centre for Security and Intelligence Studies (BUCSIS). Established in 2008, BUCSIS is a world-class centre for research into the key security and intelligence issues facing the UK and the world in the 21st century.
I currently head the Centre, closely supported by Dr Bill Kappis, a renowned academic of global affairs and international relations with a diverse international experience. The original founder of the centre, Professor Anthony Glees, also continues his association with our work as an Emeritus Professor of the University.
International BUCSIS alumnus, Samphallarith Uy, graduated from the University of Buckingham in 2018 with an MA in Security and Intelligence Studies:
"BUCSIS professors motivated me to become an independent scholar, focusing on critical thinking and the bigger picture of security and intelligence challenges. Staff members, both in BUCSIS and the University, were amazing; they helped me settle in and made me felt at home since day one.
Immediately after returning to Cambodia, having completed my MA in Security and Intelligence Studies, I was appointed to the position of Assistant to the Deputy Speaker of the National Assembly and became a Police Major, working in the Security department of the National Police.
This degree became a bridge for me to transfer from my civilian career (in the Prime Minister's office) to my current role. What I learnt during my time at BUCSIS has been key towards performing my duties."
For answers to all your Security and Intelligence postgraduate study questions, please contact us:
Visit our website: https://www.buckingham.ac.uk/study-security-and-intelligence/