Last week, Policing Insight's editor Carina O"Reilly announced Policing Insight's first Reader Survey.
As Policing Insight's Publisher, can I take just one minute of your time in this article, to echo Carina's request that you…

Note: the survey is hosted by Survey Monkey, will open on a new tab on your browser, and should take under ten minutes of your time to complete.
Here are THREE WAYS you can WIN from completing our survey.
WIN ONE: You'll help us understand a little more about who you are, your work, your interests and what services you need to aid your success in the policing and criminal justice arena. So we can then serve your needs even better.
WIN TWO: You could win an iPad Air 2!
WIN THREE: Or your favourite charity could receive a donation of £500 in your name! For example, here's what the Police Dependants' Trust thinks about that…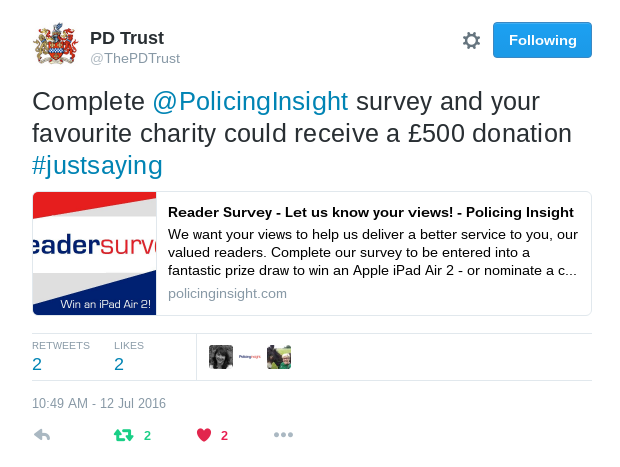 So, please do…

We will be drawing the lucky winner after the survey and prize draw entry deadline Midnight Wednesday 3rd August – Good luck!
Click here to view the Reader Survey Prize Draw terms and conditions