3rd International Police Education Conference Workshop Series: International Perspective of Policing in the Pandemic – Italy, Sweden, Germany and Ireland.
(In progress)
Online
27th Oct 2021 to 27th Oct 2021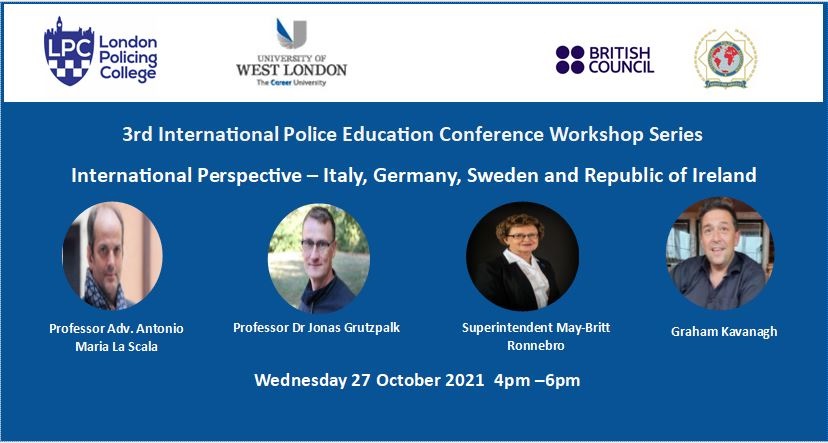 This workshop will include the following presentations: -
'Prevention of Corruption in Italy: A disturbing phenomenon in the pandemic'
How to better understand what corruption is and what consequences it determines in everyday life. Corruption essentially translates into a cultural fact - a bad habit through which so many tend to gain advantages in the easiest way possible. Hence corruption is a crime, there are so many rules that do not always facilitate the fight against the phenomenon, in addition to the amount of work and the complex bureaucracy that do not facilitate the work of judges. Greater regulatory simplification and above all training on the subject would be needed, both for public officials and citizens. More could be done in terms of prevention also in the time of a pandemic.
'How is Corona being perceived and described? The social impact of the virus on policing.'
The talk is about a project that aims to improve the understanding of organizational memory in the police. It takes into consideration the impact of the pandemic on learning processes.
'Neighbourhood Policing – what works for the Neighbourhood Watch in times of Pandemic'
In 2020, around 14,700 home burglaries were reported in Sweden - approximately the same level as in 2019. The reported burglaries in detached houses have had a seasonal character over the past ten years. Until 2018, November has been the month when most burglary cases have been reported, closely followed by October and December. This seasonal variation is not as clear for the reported burglaries in apartments. In 2020, the reported burglaries in detached houses showed less seasonal variation than before.
Research shows that a well working Neighbourhood Watch can reduce crime rates for example in domestic burglaries, by 16 and 26%. During the Covid-19 pandemic the NHW had to change strategy to get the word out to protect its area and residents, recruit members and prevent online scams, fraud, and child exploitation. This presentation will look at how the Swedish Police supported the NHW with innovation and by adopting new technologies.
'The Crime Prevention Officer's Role During the Pandemic in Garda Siochana, Ireland'
Crime Prevention from the perspective of an Irish Police officer from Garda Síochána who together with the rest of Ireland faced demanding times during the lockdowns. Lots had to be moved from day-to-day business to online delivery and crime prevention was no exception. This lecture will look at the Crime Prevention Officer training and his occupational experience, and how this came to use during the pandemic in the counties of Laois and Offaly, Ireland. It will be discussed how Sergeant Kavanagh used social media to reach citizens with his messages on crime prevention.